1991 Chevrolet Corsica
User Reviews
Average Ratings from

8

reviews
Performance:
Appearance:
Build Quality:
Overall:
Review Highlights
Click to filter reviews below
Displaying all 8 1991 Chevrolet Corsica reviews.
rohdyingenuity

writes:
1991 Chevrolet Corsica
Review
Pros
Very easy to maneuver and park; nice pickup, easy for a lead foot (like me, lol) to go 80 without realizing it. :) relatively cheap parts wise.
Cons
Sometimes difficult to reach parts to change or fix without having to take a bunch of other parts off first...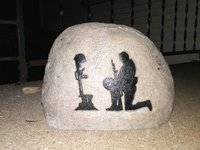 Nice Little Car To Run Around In :) — I like the simplicity in design and reasonable cheap prices of parts...even OEM parts...its frustrating though sometimes that the bolts and nuts are a mix of standard and metric sizes...on my car, 7, 10, and 13 mm; 10 mm being the most common one...for the standard sizes, ⅝, ¾, ½, and 7/16 being the most common ones...
Primary Use: Family transportation
StevenEckard

writes:
1991 Chevrolet Corsica 4 Dr LT Sedan
Review
Pros
GREAT car. Took out passenger seat's. Took out everything in trunk of car. Put on a high performance tune up. Put on the largest tires that will fit. Great traveling car. Great performance. Great fuel mileage. thjis vehicle has undergone a great deal of maintenance and basic work over the year's that I have owned it. It is a far cry from what a stock untouched Corsica is. the car has been my daily driver since 1999. It started out as a fimily car. I lost the wife and kid to a divorce in 2003. since then slowly but surely it has changed into the car it is today. Today there is no back seat, front passenger seat, center console and the trunk is void of what is normally in a trunk of a car. The engine has a very nice tune up on it. This tune up include's Bosch Fusion spark plug's with four prong ground electrode's and irridium tip center electrode. Mallory Helicoil 7.7 MM silocone spark plug wire's. 40,000 Volt Jeg's aftermarket high performance ignition coil's. K&N Aircharger large cone Air filter adapted to the air intake. The largest tire's that will fit the stock 14 in rim's safely. Hmm! This is not your father's Chevrolet Corsica.
Cons
Not enough money to complete as wanted.

My Little Race Car — I would reccomend this project car to anyone. I have spent the last 5 year's taking care of this and building it as it stands today. My only true desire would be to have enough money to do with it as I truely would enjoy doing. I think I could build it into a competive car for many application's.
Alex

writes:
1991 Chevrolet Corsica 4 Dr LT Sedan
Review
Bla Bla Bla Bla Bla Bla — 2.2 litre straight 4 cylinder automatic transmission white exterior 3 black hub-caps 20-22 miles per gallon sounds fast from the inside low cost of ownership kinda of fun to drive great brakes handles well i hope i get a newer car after this one
Danny

writes:
1991 Chevrolet Corsica 4 Dr LT Sedan
Review
Pros
uses no timing belts, no moving igniton parts that would require replacing
Cons
at best, would do just the bare minimum
Will Get You From Point A To Point B, With A Little More Performance Than Expected With V6 — One of the few compact sedan back in its time to have an available V6 engine and a choice of 5 speed manual or 3 speed automatic, which the car actually had. However the 4 speed would have been helpful for better highway fuel economy. High trunk liftover adds more effort to putting heavy items into the trunk. The car I actually drove had close to bare minimum, luckily it had cruise control, rear window defroster and V6 engine. Major components that had to be replaced around 210,000 mile mark was the ignition module/coil pack that was about to go bad, symptom is that sometimes the engine would start and sometimes it would with a help of starting fluid. The car went through 3 alternators, including the one caused by driving through flood water. The engine mount was about to go bad and a possible bad oil pump seal which could have caused an oil leak, but around 219,000 in 2001, we decided not to keep to car.
Primary Use: Family transportation
Greg

writes:
1991 Chevrolet Corsica 4 Dr LT Sedan
Review
Pros
gas mileage and reliability
Grant

writes:
1991 Chevrolet Corsica 4 Dr LT Sedan
Review
Ryan

writes:
1991 Chevrolet Corsica 4 Dr LT Sedan
Review
Pros
It wasn't a bad car but had high mileage when I got it. Descently powerful cause it was a 6 cylinder
Cons
It had problems with power steering and the battery
The Little Car That Could — This was my first car, so literally a first car. I had it for 6 months before it finally gave me enough problems. I gave it to my Step Dad to take back and forth to work. And it finally bit the dust and sat in our driveway for about a year before we submitted it to a scrap yard.
Displaying all 8 1991 Chevrolet Corsica reviews.
Looking for a Used
Corsica
in your area?
CarGurus has
29
nationwide Corsica listings and the tools to find you a great deal.