1991 Chevrolet Caprice
User Reviews
1991 Chevrolet Caprice
Review Ratings
Average Ratings from

16

reviews
Performance:
Appearance:
Build Quality:
Overall:
Review Highlights
Click to filter reviews below
Displaying 1 - 10 of 16 1991 Chevrolet Caprice reviews.
Moses

writes:
1991 Chevrolet Caprice Classic
Review
Pros
Looks, Interior, cruising, Highway MPG (for a car this size)
Cons
Engine, stereo doesn't work, City MPG, size, handling
My Caprice — This car is achingly beautiful, at least to me. If only the performance lived up to it. I'm not sure what size V8 it has, but the acceleration is incredibly anemic, and it had serious trouble on hills before we had the timing reset. It manages about 19.6 city with depressing regularity, and on the few long trips we've taken in it, delivers a decent 23 or 24 mpg. Not too terrible for a two-ton car as old as I am. The color might be my favorite feature of the car--kind of a mahogany-red. I also love the two chrome character lines, especially the bottom one that sweeps effortlessly over the wheel skirt/cover. We've sunk alot of money into this car, and the stereo still doesn't work, but it runs pretty strong. It's very easy to drive, I don't know about fun. It's a little too big and ungainly to be genuinely tossable, and the shocks and suspension seem to be made entirely of silly putty--they absorb all the bumps, but wallows like a hippopotamus at the mildest curves--and the endlessly comfy but incredibly unsupportive seats, which are basically just slabs of cushion, don't help. It's built like a tank, just prettier. The performance is the only thing that keeps me from loving this car with all my heart.
ChevyBM

writes:
1991 Chevrolet Caprice Classic
Review
Pros
Its big and comfortable and looks greate
Cons
big car & small parking lots = you know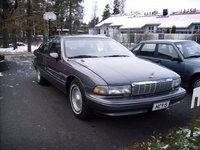 Highway Sofa — I bought this car as a "winter car" it has been driven about 200000miles, the transmission has been repaired once. My caprice has the 305 TBI engine and it is no rocket whit those 170horses, but for a car this size its ok. The build quality is good and its a comfortable car with a spacious interior. The thing I love about the caprice is its size! It just makes clare where its from, and its a really rare car in Finland (probably under 100caprices sold 1991). The cost of ownership is sort of cheap, but the fuel consumption can get high durin the winter. Spare parts are ok priced and easy to change by your self. About the fun factor, its the most relaxing car I've ever driven! And its really easy and fun to slide around on snowy roads with it! The Caprice is a perfect car for a road trip, loads of space for 5-6 passengers and the trunk is huuuuge! To improve the handling i would reccomend to install the heavy duty suspension!
Primary Use: Commuting to work
Nebulisnotion

writes:
1991 Chevrolet Caprice Base
Review
Cons
not an impala ss..chintzy interior trim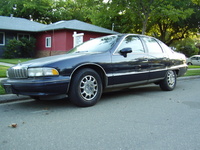 Unique Looking, Tough Utility Car...with Chevy Reliability...130k And Counting — Very practical vehicle-former detective car 5.0....takes a spell to wind it out but the mpg trade off is worth it...averages about 24 on the highway..tow package/heavy duty suspension just towed a 2000lb trailer to NC and back....very reliable car!
Primary Use: Utility (towing boats, transporting cargo, etc.)
Chevyryda91

writes:
1991 Chevrolet Caprice Base Wagon
Review
Pros
Perfect car for family and long trips ... Good base to build another lowrider
Cons
Removing the factory stereo was a pain in the butt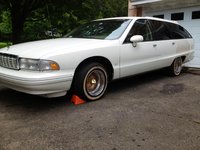 p_0_p_p_y75

writes:
1991 Chevrolet Caprice Classic
Review
Pros
Nice cars have had 7 they don't build them like this anymore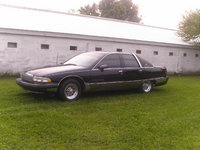 Great Old Cars For The Cost — I'd rather have one of these then any new car payments. They will never make cars like this again. Keep them maintained and don't beat them they will get you to 175,000 easy. prem. gas, keep tuned, k&n air filter avg 18 mpg mixed driving
King

writes:
1991 Chevrolet Caprice Classic
Review
Pros
Awesome ride, decent mileage for an old V8.
Cons
The body style and size.
Classic Cop Styling And Performance. — I added this car because it was such a good deal for my friend when he bought it. We purchased the car for under Five Hundred Dollars. We bought the car non- running and repaired it for under a hundred. This old car was an exceptional value.
Primary Use: Family transportation
Leon

writes:
1991 Chevrolet Caprice Classic
Review
Pros
reliable, V8 sound, space
Big Meet Cruiser — Great car for long distances. We've been to the Power Big Meet in Sweden this year with this dreadnought. Good fuel consumption for its size and power. Has sidepipes which sound great but look ridiculous. It's a luxury barge. For Sale!
Primary Use: Commuting to work
Ryan

writes:
1991 Chevrolet Caprice Classic
Review
Pros
its an old Chevy enough said
Cons
its a boat if ur used to small cars
Zach

writes:
1991 Chevrolet Caprice Classic
Review
Pros
It fits Many people and rides on a cloud
This Car Is Fantastic And I Love It!! — I love my car it may be 20 years old but it runs like new!!! Its big 5.0 v8 is a champ!! gas mileage is low but not terrible 15 city and 25 highway it also fits 6 people. It is my boat and it surely makes me happy !! Simply wonderful!!! It blows a little smoke but only when jumping on it!!
Primary Use: Commuting to work
Brandon

writes:
1991 Chevrolet Caprice Classic
Review
Cons
bad gas mileage, stuff wuz breaking, tranny out, just all around crap
It Was One Of The Best Times Of My Life Being In That Car — Performance-engine was a crap 305 v8, 222,222 miles (no joke) it had no acceleration, we called it "the boat" because its entire suspension was shot and bottomed out on everything...tranny finally went out, had a professionally installed exhaust system from Magnaflow which made it REALLY loud for a 305 build quality-crappy appearance-crappy cost of ownership-a lot but it was totally worth it Fun factor- we had really good times in that car and it was and forever will be my 1st car
Primary Use: Sport/fun (spirited driving, track racing, off-roading, etc.)
Displaying 1 - 10 of 16 1991 Chevrolet Caprice reviews.
Looking for a Used
Caprice
in your area?
CarGurus has

152

nationwide Caprice listings and the tools to find you a great deal.