1991 Buick Reatta
User Reviews
1991 Buick Reatta Review Ratings
Average Ratings
from 3 reviews
Performance:
Appearance:
Build Quality:
Overall:
Displaying all 3 reviews
MasterX767

writes:
1991 Buick Reatta 2 Dr STD Coupe Review
Pros
Everything about this car!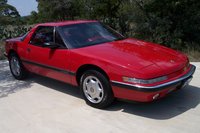 The Best American Car Of Its Time — This is the last American car hand made from scratch. This vehicle was produced when the foreign competition was laying waste to the American automobile industry. In cooperation with the UAW and GM, these cars were hand crafted masterpieces that are easy to work on and have all the performance & quality all American cars should have. These cars were 20 years ahead of their time with electronic everything. The only past technology on these cars is the cruise control. Otherwise, everything on this car is still very current for 21st Century automobiles. The suspension on this car is relevent to a Corvette and even has a smoothness on the touring side. Advanced rear suspension includes a variable air pressure shocks and upper & lower control arms. The tow (that's fancy suspension talk) in this car is very heavy for a sports car, yet is easy for a cruiser. These cars are only just starting to catch their second wind at 200K miles. If one services the car regularly, these cars can last. Mine has over 150K miles on it and it still burns out in second gear! I reccoment reprograming the ECU for the electric cooling fans to come on sooner, and also a fuel stabilizer for the ethanol blended gasolines. This car was built before such a calamity was introduced to gasoline. The 3800 GM V6 is also a great engine. Very durrable and with the TPI, fuel efficient fun. Altyhough the HP could be a bit more, that's nothing a modern electric supercharger can't easily fix. I wish all American cars were built to this specification.
Primary Use: Commuting to work
Elijah

writes:
1991 Buick Reatta 2 Dr Convertible Review
Pros
I love everything about this car
Cons
I don't hate anything about this car
Best Buick Ever — The Buick Reatta is a comfortable car with amazing handling brakes speed design it is a rare car so you know their is not a lot of people with them it is hard to find parts but is totally worth getting
Primary Use: Sport/fun (spirited driving, track racing, off-roading, etc.)
manikmekanik

writes:
1991 Buick Reatta 2 Dr Convertible Review
Pros
The 3800 powerplant rewards us with 28-31 hyway MPG.
Cons
Last of the original "Seven Sisters" on the road, "Black Beauty's only surviving sister is the last handcrafted Buick to roll off the line at Flint's Reatta Craft Centre. I'll never see another like her on the road.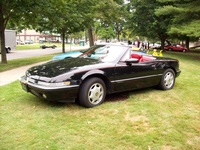 "black Beauty" Is The Epitomy Of Personal Luxury/exotic Style, Buick's Only Exotic Roadster. — The 1991 Buick Reatta convertible is the only exotic roadster Buick produced. With only 197 cars released, it remains the most rare line of US production cars since the 1959 Cadillac ElDorado Brougham convertible, when only 101 cars rolled-out. Hand crafted at the Lansing, MI Reatta Craft Centre, (built expressly for Reatta production line), the 1991 convertibles were endowed with many enhancements over thier predecessors. Our 1991 Buick Reatta convertible, "Black Beauty" is the last of the original "Seven Sisters" built with jet-black skin and flame red interior left on the road. Her only survivng "Little sister" is the last of the 1991 Reatta convertibles hand-crafted at the Craft Centre. Black Beauty has attended many Buick Club of America shows, including the 2008 BCA Nationals, held in Flint, MI to coincide with GM's 100th celebration. She also appears on videos in the "100 years of GM cars" parade thru downtown Flint, and in local news coverage of the "Reatta procession" thru Flint, to the show grounds, where Reattae overwhelmed the event with the most Buicks of any class. Originally purchased by then Mayor of Dallas, TX, Black Beauty still wears her "Texas Moustache" proudly, which has been recognized as her unique trademark. You can find her at Jay Leno's Garage website, where she is the only Reatta in attendance. Jay Leno does'nt even have one of these super-rare examples of automotive artistry. The Reatta is NOT your father's Buick, but "Hand-crafted luxury built for two."
Primary Use: Sport/fun (spirited driving, track racing, off-roading, etc.)
Displaying all 3 reviews
Reviews From Other Years
They Don't Make Em Like This Anymore...
LOVE everything about this car with the exception of a lack of parts. Repairs are getting harder to make as certain parts are unavailable and mechanics are hard to come by that actually know what they... Read More
One Of The Best Car For It's Time
I've always liked the looks. This is my 2nd one. I love the styling. Because of the composite materials used in the body you get virtually no rust. The back tail light assembly could of had a little ... Read More
Read all

10

1990 Buick Reatta reviews
Buick Reatta: Fantastic And Complex
This car is a fantastic weekend car that is very stylish and great economically. It gets great gas mileage with the dependable 3800 engine. It is very technologically advanced with the digital dash ... Read More
Buick Reatta
A real head turner for the mature country-clubber who wants a sporty weekend cruiser. Bullet proof GM 3.8 liter 6 cyl. Very comfy interior with lots of storage for a 2 seater. Pass-thru rear storage. ... Read More
Read all 1989 Buick Reatta reviews
Ask CarGurus about the 1991 Buick Reatta
Average response time:
8.5 hours
,
# of Buick Reatta owners:
89