1991 BMW 8 Series
User Reviews
1991 BMW 8 Series
Review Ratings
Average Ratings from

8

reviews
Performance:
Appearance:
Build Quality:
Overall:
Review Highlights
Click to filter reviews below
Displaying all 8 1991 BMW 8 Series reviews.
DLB8Freak

writes:
1991 BMW 8 Series 850i
Review
Pros
Its beautiful and fun to drive!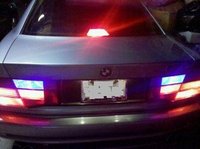 Its A Attention Gainer. — The money I put into this car is worth it. I sit and drink beer in my garage and look at it all the time. Why get a car everyone has, like a camaro, mustang, or Kia just to name a few? Unless you put 40-50k into it it's just another car, there are hundreds of them on the road. I got this car with very low miles from a reasonably wealthy owner who took care of it for cheap, I think he was having money problems. Anyway nothing squeaks or rattles, but if you look closely you can find flaws or potential future repairs. OK the 8 Series: PROS: Performance, 0 to 60...not bad at all, highway 60 to 100 mph is what it was built for and it cruises! VERY easy to get a ticket driving this car because it's such a smooth ride. Fun to drive...ABSOLUTLY!!! Putting all the windows down and opening the sunroof gives you a great view and lets lots of light in. People love to see this car on the road and ask me questions all the time most want to see the engine. Huge trunk, back seats are very tight. Passenger and driver leg and head room is excellent for a coupe. CONS: It's a heavy car, on tight turns going up and down short hills can definitely be felt in this car. Average repairs: Oil change can cost up to $120 so you can only imagine how much a major repair can cost. Some maintenance can be done on your own if you do your homework and have some maintaince skills. APPEARANCE: People think it's a new car and ask me what year it is. Looking at pictures it has a design that is timeless. Cost of ownership depends (of course) on what kind of condition it's in. I drive mine on weekends to get DD with my wife. I drove it to work here and there a two mile ride. Now I put maybe 10 miles a week on it. GAS mileage not so good but it also depends on how you drive it. GAS $50-70 premium! I drive a beat up 97 Pontiac 1800 with 177k on it. I keep the 8 in the garage and baby it, and totally neglect the Pontiac. Its job is to get me to and from work! The 8s job is to look sexy in my garage!
Primary Use: Sport/fun (spirited driving, track racing, off-roading, etc.)
Pär

writes:
1991 BMW 8 Series 850i
Review
Pros
Great looks, fun to drive, exellent handling
Gas Guzzling Super Car — First I was caught by the looks, but after the first test ride I was really impressed. 0-100km/h took 6.7sek although weight is nearly two tons. The M70 B50 motor V-12 Engine(is so powerful (300hp) and has great torqe (450nm). The machine is a technical masterpiece and works like a clock. The BMW business's idea was to compete with Lufthansa but then we had this oil-crise... Maintenance is difficult if you not are an hardcore electronic engineer and costs are high if you let the BMW-mechanics do all the work. Parts are not cheap: New exhaust pipes and mufflers cost me $1524 A new clutch kit $2062 Ownership is also a nightmare cause of expensive insurance and fuel consumption. If you drive like granny maybe tou get away whith 13liters/100km but you dont want that, so be prepared: It guzzles easily 25-30liters/100km and during racing and drifting gas mileage computer stops at 39liters. Use your imagination. But if you are economically independent like me: -This is the ultimate car!
Ryan

writes:
1991 BMW 8 Series 850i
Review
Pros
If you have to have one of the most exotic BMWs out there it has to be an 8 series V12 6spd!
Cons
Be sure the previous owner did all the things you don't want/can't afford to do!
A Bmw That Very Few People Know What It Is Or Even When They Were Made. — One of the most exotic cars I have ever owned. With that comes a hefty maintenance price tag though. I love this car and have no qualms about the costs over the years now that I look back on them, however, now that I can look back on all the expenses, if I were to do it again I would make sure I had someone that knows the 8 specifically look over the car prior to making the big leap and buying one. Nevertheless, if you do end up owning one, be prepared to answer lots of questions about them, because they definitely do draw a lot of attention!
Primary Use: Sport/fun (spirited driving, track racing, off-roading, etc.)
Jonathan

writes:
1991 BMW 8 Series 850i
Review
Pros
Style, that's about it
Cons
Expensive bills, expensive bills, did I mention expensive bills?
The Great Land-shark Of The 90s — A luxurious yacht dressed up as a car. Smooth and solid power delivery, mediocre in the corners. Appearance, need I say more? Cost of ownership, more than I can afford Build Quality, excellent except for anything electrical, including wipers. Some rather poor plastics in the cabin, but the leather is apparently very high quality. Excellent drive train though, beautiful V12 and even the 4 speed auto is very capable, tall gearing too.
Primary Use: Sport/fun (spirited driving, track racing, off-roading, etc.)
Taryn

writes:
1991 BMW 8 Series 850i
Review
Pros
appearance, originality.
Cons
not many parts for these cars. and expensive labor costs.
Bo176

writes:
1991 BMW 8 Series 850i
Review
Pros
EVERYTHING ABOUT THE CAR
Cons
very expensive spareparts.
Bmw 850 — This is still in my eyes the most beautifull coupe ever build. Its a very nice and smooth ride and I would really love to buy one again though I would aim for a 1998 edition. The car is very spacious and the water still comes to my eyes when I imagine the sound when I turned the egnitionkey...click...brrrr. woooww.... FANTASTIC!!!!!!!!
Alejandro

writes:
1991 BMW 8 Series 850i
Review
Pros
It is beautifull safe handles amazingly and is just way smooth on the road
Cons
Needs more power for the amount of weight and engine size
E31 V12 Review — Great performance Excelent build quality and fantastic appearance, The cost of ownership is quite high. Besides that it is always a joy to drive this car. Not such a good car to have as a daily driver. The way the car drives feels and just makes you cruise on the highway makes you want to do more.
David

writes:
1991 BMW 8 Series 850i
Review
Pros
Rare GT car, V12, 5 seconds to 60, and is a chick magnet.
Cons
Once you drive it, everything else will seem insufficient
Engineering Marvel — Great GT car with a V12 that will set you back in your seat. One ride in this vehicle and you will be in love. it is a 6 time Best in Show car in California Washington and BC. currently has Stage two full DINAN suspension and sway bar. DINAN rev limiter eliminator and performance chip. Full Cat-back exhuast, stainless steel braided brake lines, BBS wheels and 30% tint. Lets Drive.
Displaying all 8 1991 BMW 8 Series reviews.
Looking for a Used
8 Series
in your area?
CarGurus has

37

nationwide 8 Series listings starting at

$4,999

.