1990 Volkswagen Cabriolet
User Reviews
1990 Volkswagen Cabriolet Review Ratings
Average Ratings
from 10 reviews
Performance:
Appearance:
Build Quality:
Overall:
Review Highlights
Click to filter reviews below
Displaying all 10 reviews
Kyle

writes:
1990 Volkswagen Cabriolet Base Review
Great Little Car. Especially For A N00b — The preformance lacks. Low HP, decent torque though. Braking is okay too. Handling is great though. The car is built solid. Unibody frame makes it a great first car to wreck. The only complaint is the leaky top. One of a kind car. Everyone knows my car. The gas mileage is good enough to justify parking in the "Fuel Efficient" parking at Best Buy. Fun car though.
Primary Use: Commuting to work
KDHoover39

writes:
1990 Volkswagen Cabriolet Boutique Review

Good German Car. — IF you know German engineering, then you know that Volkswagen is nothing but good old fashioned German fun. Yes it takes a little getting used to the way things work and feel but once you meld with this little convertible the miles are fast and fun. Professor Porsche had a hand in development at VW. and it shows. The car is quick for having only 94 hp. It will accelerate with easy anticipation and is nimble and maneuverable at all speeds. And at 25 to 30 miles per gallon, Fahrvergnügen is the best way to describe it, It's simple driving pleasure. It's not designed for big Americans though. The cabin width is a bit tiny and the leg room isn't really designed for more than two people over 6 feet. (the back seat tends to be a little crowded with the front seats all the way back. Foot peddles are close together like most small euro cars. But for the average sized family (Mom, Dad, two kids) it's a fun and hard working machine. Parts are a bit costly and knowing a competent mechanic is a must. Other than that, regular oil changes and maintenance will provide thousands of miles of carefree enthusiastic fun.
Owner for 5 years, 0 months
Miles Driven per Year:14,700
mojonopo

writes:
1990 Volkswagen Cabriolet Review
Pros
really fun car, easy to open and close convertable roof, easy to drive,
Cons
a bit noisy, not a lot of pick up, rough rider, a bit of a musty smell---but heck, it's 22 years old.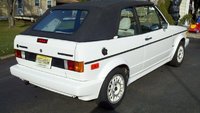 Fun,fun,fun — I bought this as one of the final fifty things on my bucket list....too old for a motorcycle, but this is the next best thing...looking forward to a great driving summer. smile, it's a good world. God Bless
Primary Use: Sport/fun (spirited driving, track racing, off-roading, etc.)
Pettis12

writes:
1990 Volkswagen Cabriolet Boutique Review
Pros
Handling, compact body design, appearance, spacious trunk for car size, gas mileage, etc.
Cons
Only thing is manual convertible top in a bit difficult, heavy to pull up once down..

Great! — Parking in tight spots? You can park this car where no man has parked before! The handling is great. Appearance seems to hold up well after all these years (exterior/interior). Just a very enjoyable car to drive. First when purchased, notifed blind spot when top was up. But with any new car, got use to it.
Primary Use: Family transportation
Derek

writes:
1990 Volkswagen Cabriolet Base Review
Pros
Simple, Good Looking, Fun, Easy To Work On, Economical
Cons
Automatic Transmission Is Slow
Great Car But Get A Manual Transmission. — Overall I like it a lot. It gets good mileage, is fun to drive, is easy to work on, looks good, and doesnt have much unnecessary stuff that can break. The engine isnt too powerful, but it doesnt weigh much either, however the 3 speed automatic transmission kills any performance potential this car would have. Get a manual.
Primary Use: Commuting to work
Lewy

writes:
1990 Volkswagen Cabriolet Boutique Review
Cons
Interior needs help.

Great Fun Car For Young Person — Very low mileage, 54000 miles. Never in an accident. Drives easily. Roof leaks slightly. Needs some interior body work. New AM/FM radio and CD player. Car is fun to drive. Has original leather top for convertible. Used mostly to commute to train. Has tow package.
Primary Use: Family transportation
Mike

writes:
1990 Volkswagen Cabriolet Base Review
Cons
clutch is slipping but will get fixed and run like a rocket.
My Car — my catylitic converter is rumbling and makes a rattling noise during acceleration, my clutch slips and it whines in reverse. i paid 1500 for the car( a jip i know) and 1700 in repairs. its a convertible that has a little torque to it, looks like a new car now that ive buffed it, going to run strong once i get the clutch in, all in all, i hate car repairs and costs in general, but on the distant bright side, they're alot of fun:)
Ian

writes:
1990 Volkswagen Cabriolet Base Review
Bob

writes:
1990 Volkswagen Cabriolet Base Review
Pros
spares availability, topless and easy to work on
Cons
roof leaks. no boot space
Everyone Should Have 1... Or 2 :d — Once you replace the nasty original carb with the Webber twin choke (something you have to do if you want to keep it) its just a brilliant driving experience. built to last and 30 years after th Mk1 went on sale it still looks good. its never going to be an everyday car but for sunny summer sundays its perfect
Mik

writes:
1990 Volkswagen Cabriolet Best Seller Review
Pros
euro style, great all around performance
Cabby Styllz — Good balance, awesome handling, pretty quick, love the euro styling and period correct, ie 80's mods. Of course this is modified with a 16v and coiliovers etc. Cheap to buy and maintain if you do the work yourself, lot of fun to drive.
Displaying all 10 reviews
Ask CarGurus about the 1990 Volkswagen Cabriolet
Average response time:
8.5 hours
,
# of Volkswagen Cabriolet owners:
514
Looking for a Used

Cabriolet

in your area?

CarGurus has

14

nationwide Cabriolet listings starting at

$1,000

.