1989 Honda Accord
User Reviews
Average Ratings from

38

reviews
Performance:
Appearance:
Build Quality:
Overall:
Review Highlights
Click to filter reviews below
Displaying 1 - 10 of 38 1989 Honda Accord reviews.
jet1942

writes:
Pros
5 speed is peppy! way more pep than 96 model with automatic I owned
Cons
black paint started failing at about the 10 year mark and is really bad on hood, roof & trunk

1989 Honda A Great Car For The Last 20 Years (and Still Drives Like It Did When New!) — my son's first car out of college. when he moved to japan I bought it for my daughter to drive in high school and college. In 1998 I swapped my 1996 honda for the 89 cause I thought it would be more reliable for her in Atlanta. Eleven years later I am still driving the 89 accord. Except for a few things that have failed like ac, cruise it still runs great, has no rattles or squeeks, and the steering is better than any car I have ever driven. You just point the car where you want it to go and it doesnt wander at all. Amazing for a 20 year old car!! I like this car so much I am even considering a quality paint job with original paint (black with a gold fleck) I know, I know it will cost more than the car is worth in the market but I would completely restore this car (if I had the money)so a good paint job might not bust the budget.
amcgrady

writes:
1989 Honda Accord LX
Review

Great Car For Its Age — I bought this car over 3 years ago for $1500.00. Mine was the 4-door manual transmission version. I was expecting better gas mileage from it but I wasn't unhappy with the 30mpg I was getting. It was very fun to drive and handled well. For a 20-year-old car, I was impressed that it didn't have any squeaks or rattles and the A/C was still very cold. The sunroof and power windows all still worked perfectly as well. I sold this car to my mom about two years ago and it's still going strong with 225k miles on it. Haven't had a lick of trouble from the engine, transmission, or clutch. The driver's side door handle (inside) is broken and she hasn't been able to find a replacement yet, but she says it's not that big of a deal to her. I would buy another one in a heartbeat if I could find one for the same deal. That exact same car is now selling for over $3k in my area (even with similar mileage.)
Primary Use: Commuting to work
HondaAccordDXperson

writes:
1989 Honda Accord DX Hatchback
Review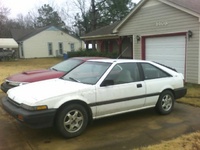 Perfict!!!!! — I love my car! It gets about 45-50 MPG on the highway. It has a strong build. The car is perfict. But there were not many built. It being a standerd makes it a realy fun car to drive.
Primary Use: Family transportation
igutierslcc

writes:
1989 Honda Accord Lxi
Review

Fun Relaible And Spacious Car — I bought this car on craigslist for $650- it runs great no problems so far. What I really love about this car besides its cool headlights is how spacious it is inside, trunk wise and how wide all the windows are.
Primary Use: Commuting to work
Josh

writes:
1989 Honda Accord LX
Review
Pros
manual transmission, flip-up headlights, good seating capacity
Cons
paint is kinda faded
Awesome First Car, Quick Accelleration, Fun To Drive, Great Gas Mileage — gray exterior, black/gray interior, handles like a dream and can turn on a dime, gets awesome MPG, quick/smooth/fast acceleration, good top speed, roomy, AMAZING sound system
Jesse

writes:
1989 Honda Accord Lxi
Review
Honda In The 80s — it squeeks !!!!!!!!!! the cars trans clanks it makes loud noises at high speed and it knows when i talk bad about it cuz then it wont start the next day so if you see me on the side of the road after this with the hood up you know why
Pro200X

writes:
1989 Honda Accord LX
Review
Pros
Fun to drive
Power everything on mine
Reliable
A little get up n go
Cons
Carburetor can be a pain to work on and tune in.
Back seats are not roomy
Trunk space is iffy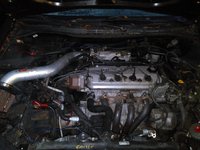 Fun When Running — I miss this car but I threw more than one wrench in my garage when trying to fix fuel and vacuum related problems. Very frustrating to get certain parts off of it. The alternator is an example. Located above the CV shaft and under the firewall side of the intake. The CV has to be removed so if you aren't/dont know a mechanic its expensive. I loved the car enough that I didn't mind the work. Be aware of the crank bolt if you try to remove it use some ear plugs. When I broke it loose it sounded like a shotgun went off in my garage.
Primary Use: Sport/fun (spirited driving, track racing, off-roading, etc.)
Stefanie

writes:
1989 Honda Accord LX
Review
Pros
I could beat it to the ground...
Cons
Constantly in the shop...
cjmorin1

writes:
1989 Honda Accord LX
Review
Pros
Maintenance, while sparse, is still cheap when it happens. These cars seem to run forever with no hassles. I get decent fuel mileage and plenty of room inside to carry around all my stuff and a few passengers, too. I have owned a 1995 Accord, 1995 Prelude, 1991 Civic hatchback and now this 1989 Accord and have to say that they are all great, but the older Accord (...call me old school) has my favorite styling of all.
Cons
The car could use some more power and it doesnt have the best sound proofing either, but this is to be expected of an older economy car.

Economical And Hassle-free Shuttle Box With Style — This car has really been good to me while I have driven it, and I love the fact that it has cloth seats! All the other Hondas had either leather or vinyl and these cloth seats were great through the winter. They match really well with the two-tone upholstery of the interior!
Primary Use: Commuting to work
Krissy

writes:
1989 Honda Accord DX
Review
Take Care Of It And It Will Take Care Of You! — This was my baby. I loved this car. It was in all around good car. The only little problem with mine was it had a pretty bad oil leak. No one could tell me where it was coming from and it kept ruining my altenators. I replaced the altenator like 3 times. Everyone kept telling me I needed to get rid of it that it was no good. If I had known I was gonna go through what I went through money wise since my honda I would still have my car! Best car you could ever own! It handled great, had great speed, the interior was emaculate as well as the outside, gas mileage was about 23 - 25 miles to the gallon. Was really fun and exciting to drive.
Primary Use: Commuting to work
Displaying 1 - 10 of 38 1989 Honda Accord reviews.
Looking for a Used
Accord
in your area?
CarGurus has
60,079
nationwide Accord listings starting at
$950
.