1989 Ford Ranger
User Reviews
1989 Ford Ranger
Review Ratings
Average Ratings from

16

reviews
Performance:
Appearance:
Build Quality:
Overall:
Review Highlights
Click to filter reviews below
Displaying 1 - 10 of 16 1989 Ford Ranger reviews.
Johnathon

writes:
Cons
not a performance vehicle
Great For A First Car — this car has lasted me since I was 16 years old. its not fast and its not pretty but it is reliable and always gets me where I need to go. I learned how to drive a stick in this truck and have only replaced the clutch once.
Primary Use: Commuting to work
Bradley

writes:
Pros
Runs good, reliable, practical, economical, useful
Cons
Minor repairs here and there
One Of The Most Reliable Vehicles Ever Built In My Opinion And Best Light Truck Ever Built. — I love this little truck because it is always there when I need it. This truck has its minor fixes, but it is usually never something that affects the major operation of the truck. Every day when I go outside my Ranger starts right up and runs like a champ. I think the best proof of this was leaving it sit for two months during winter with only a quarter tank of gas going outside when it was -20 and having the thing start right up. It may be frustrating to deal with all the minor fixes, but hey this vehicle is old and was cheap so what can you expect. It is the perfect vehicle for someone who is looking for a cheap daily driver and a vehicle that can be used to carry medium sized loads.
James

writes:
Pros
The size to tow capability
Cons
Doesnt look the best
Great Work Truck — Built Strong. Great for hauling and saving gas at the same time. Great interior design. You can tow, haul or just go off road if you want. Fun truck to do whatever it is you are needing to do and more.
Primary Use: Commuting to work
ScooterAmy

writes:
Pros
242,000 still running
Cons
I may put A V-8 in someday,but I doubt it.V-6 is still running strong.

Ford Built Quality 1 — My 1989 supercab XLT is amazing.It has 242,000 miles and still runs like a champ.The original transmission died at 200,000 miles.Body is in great shape.I would have liked a v-8 option and better gauges back then.It is an amazing little truck.I think I will own this pickup until the die I die.
Primary Use: Family transportation
Tony

writes:
Pros
Great Gasmileage and very easy to drive
Great Little Truck! — Acceleration is just as you would expect from a little 4 Cylinder and so is the top speed. Build quality of the vehicle is definitely one of Fords strong points, but I will later do a front end swap over to the 1984 Ford Ranger look as well as an Interrior downgrade to the 1984 look, after all, older looks better!
Primary Use: Commuting to work
Brian_1979

writes:
Cons
volts, temp and oil pressure gauges don't work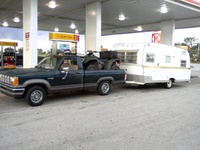 Also Own An F-150 And A Car, I Have No Use For This Ranger But I Like It Too Much To Get Rid Of It. — 4 cylinder or automatic trans rangers suck, but not this 2.9L V6 5-speed manual. 2WD, standard cab. The little thing will pull anything I hook to it. Last year I drove it 525 mi to Nebraska, bought my friend's 3200 lb travel trailer and towed it 525 mi home with no problems other than wind/handling issues. Engine always starts immediately even when it's been sitting in the barn for 6 months. 100k miles, everything's still tight but it rides like a lumber wagon compared to my '88 F-150 and the rear end likes to skip to the right when I hit bumps.
Primary Use: Utility (towing boats, transporting cargo, etc.)
James

writes:
Pros
its a 4X4 so it goes almost anywhere
Cons
none its a great truck to me
Great — It runs great . not super fast but it goes. it does not handle wel l. brakes work like they should.extremly fun to drive does not cost much gret gas mileage body is a little beat up. no rattles or squeaks . so its great.
Primary Use: Sport/fun (spirited driving, track racing, off-roading, etc.)
Bill

writes:
Pros
Very clean - useful for driving around town
Cons
Not gonna be great on the freeway or long commutes
Really Clean And Runs Great — Appearance is excellent, gets decent gas mileage, the brakes and tires and battery have been done recently - I replaced the windshield washer hoses under the hood. It does use some oil and I wouldn't take it on a long road trip - but it will serve well for around town and short hauls.
Primary Use: Family transportation
wickedjstr

writes:
Pros
The four banger gets good mileage and the truck itself is in between the ages, meaning that it's not so old that parts are scarce and it's not so new that parts are spendy
Cons
power, and finding modifications for the engine with out having to swap a v8

Wth — like it, it's good little truck that is easy to do a frame-off resto, if you wanted, it can also be easily converted to a flat bed, or lowered to a super stance, the conversion package to a V8 is out there and cheap compared to other small truck to big engine swaps.
Primary Use: Sport/fun (spirited driving, track racing, off-roading, etc.)
Robert

writes:
Pros
Handles good, Brakes well, Inside great. Non expensive
Stick Ford — My truck has good gas mileage. It runs good. The performance is good for a truck. Brakes well. handles good even on gravel. It needs new shocks. The inside is great. Needs new paint. Not expensive to drive. Depending on what type of road I am driving on, it can be very fun to drive.
Displaying 1 - 10 of 16 1989 Ford Ranger reviews.
Looking for a Used
Ranger
in your area?
CarGurus has

6,654

nationwide Ranger listings starting at

$1,800

.