1989 Ford F-150
User Reviews
1989 Ford F-150
Review Ratings
Average Ratings from

35

reviews
Performance:
Appearance:
Build Quality:
Overall:
Review Highlights
Click to filter reviews below
Displaying 1 - 10 of 35 1989 Ford F-150 reviews.
Kyle

writes:
Pros
everything i listed and it was a very quick truck
Ford F-150 — I had a 1989 Ford F-150 reg-cab, 2wd,longbox,5-speed. the truck had a 302 efi. this truck was amazing. i loved it, it had power when you needed it, it stopped when you wanted to stop, and the steering was so light. this was a truck that never let me down. it started everytime. it had a little bit of FORD rust. and every ford owner knows what im talking about. and for the truck being a V-8 it was pretty darn good on fuel, and the maintenance was cheap and rare. My ford was a blast to have it was a sweet ride. I wanna rebuild it someday
Robi

writes:
Pros
Fast, bright , looks good
Cons
Uncomfortable seats,clutch shot.
Looks Good Bin Dependable And Versitile — Its old and goes ,hauls ass and moves fast. Eats gas but made to last. Looks good too. Not too rusty but smells kind of musty. Shes red and filled with lead but I'd rather driver when she fed. Shes got air helper bags out back cuz when shes loaded the springs are slack. Five speeds ahead and one back keeps her on track, rather have a Ford than a Mack..........Seeya.........
HankRankin

writes:
Pros
This truck is fun to drive and easy to park. It handles great on and off road even though it's a 2wd. It's pulled everything I've asked it to and has no problem carring a full load in it's short/wide bed. With normal, scheduled maintance this truck is very inexpensive to operate and with it's duel fuel tanks it seems to run forever! The EFI 302 is a perfect match for this truck with enough power to get the job done and easily handles the interstate as well as the rough country mountain roads. It's a keeper!!!

Cons
About the only con I can think of is that it's a 1989 model and things ware with age. Fortunately most everything is easy to replace!

It's A Keeper! — I enjoy driving this truck and am finding myself using it more and more every week. Easy to handle, good on gas, plenty of power, 4 speed w/overdrive tranny, and extremely dependable. About the only thing I regret is I should have gotten a solid paint model. I have a 2 tone paint job, Burgandy with a White stripe down the side.
Primary Use: Utility (towing boats, transporting cargo, etc.)
Brandyn

writes:
Mint — proformance motors good hanldling not so good 4x4 is mint build its a ford what can i say appearance XLT Lariat with extenda cab fun factors she 4 wheel peels and one wheel peels cant kill it built ford tough
Primary Use: Sport/fun (spirited driving, track racing, off-roading, etc.)
mudbogger

writes:
Pros
Strong motor, strong transmission, strong independent front end
Cons
paint is starting to show wear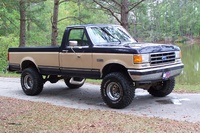 Best 15,900.00 I Ever Spent — Best 15,900.00 I ever spent Rating ***** by Michael Tirpak This F-150 has 252,000 miles on it, still has the original 5.0 liter motor. I did have to replace the transfer case at about 230,000 miles and told the guy to rebuild the transmission while he was in there even though it was not giving me a problem. I pull a 18 foot boat and use it when I am hunting and have not been stuck even though I travel down roads on a military base that are traveled by M1 tanks so they get really messy when it rains. I have 315,000 miles on it now I did have to replace the rear pinion seal and bearings so of course I rebuilt the rear end and installed a Richmond Gear Powertrax No Slip Locker, it was real easy to install only took me about 40 minuets and it works great. I would recommend this locker to anyone, it takes a little getting use to when driving on the street but is worth the traction you gain off road especially if you only have a two wheel drive truck.
Primary Use: Utility (towing boats, transporting cargo, etc.)
Brendon

writes:
Pros
runs awsome and its a 4X4
Good Reliable Truck — my 1989 ford truck is mechanically awsome everything works good in it the interiors in awsome shape the only bad thing is it has some rust on the box but i plan on fixin the box and givin the truck a lift kit and new tires and rims
Carl

writes:
1989 F-150 Swb Reg Cab 5.0l Man. Trans. — I don't easily get attached to vehicles, but I got pretty emotional seeing this truck go. I had lots of memories with it, and it was very reliable. The 5.0l was not perfect, but it made enough power to make the truck an exciting drive. I got around 16 mpg combined driving.
Primary Use: Commuting to work
Jamie

writes:
Pros
It was a great first vehicle. It lived up to its ford reputation as it was the best vehicle I have owned to date.
Cons
Wrecking it was terrible but the twist was it came out of the body shop in better shape than when I got it off the Hauler when it was new and had 2 miles on it.
Justin

writes:
Pros
Tough, never gets stuck to the point I can't get out, great off roader, and killed 4 deer in one night and only put a dent in the bumper and a crack in the grill... by accident of course
Cons
It's alittle incompasitated right now...
Reliable, Tough, Just Having Problems Right Now, That's Why I Didn't Say Gorgeous — This picture aint my truck, but looks just like it, mine has windshield damage I'd rather not show :( but hey! All i need is a new windshield, ignition, and U joints and it'll be good to go again! Mine is a F-150 XLT Larriet 4x4, with the 302 (5.0 litre), 4 speed manual trans mition, fuel injected, and has the off road driving pakage. Mine is Black with a red interior, bench seat.
Jason

writes:
Pros
Great off-road, reliable,
Cons
Suspension - rear Leafs made out of too dense of a metal and pron to breaking, IFS system causes a weak fron axle and big hang up point
Built Ford Tough — Took a beating and wouldn't die.4X4 Highboy Cuatom model, V8 302ci engine, 5spd. Manual Transmission, Manual Transfer case, 35x9.5 inch Tires on 15in rims. Had sufficent power considering it was only a 1/2 ton. Nice low gear range great for Climbing steep hills while off-roading. hard to get stuck even harder to get loose when it was stuck in the mudd
Displaying 1 - 10 of 35 1989 Ford F-150 reviews.
Looking for a Used
F-150
in your area?
CarGurus has

102,113

nationwide F-150 listings starting at

$1,250

.