1989 Chevrolet Camaro
User Reviews
1989 Chevrolet Camaro Review Ratings
Average Ratings
from 55 reviews
Performance:
Appearance:
Build Quality:
Overall:
Review Highlights
Click to filter reviews below
Displaying 1 - 10 of 55 reviews
1
2
3
4
5
6
Next
swtride89

writes:
1989 Chevrolet Camaro RS Review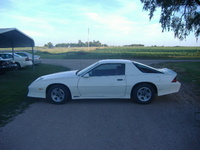 Everything A Car Should Be — My camaro has a 2.8L V6 and it is everything a car should be. It looks great, drives great, the 5-speed tranny gets you great gas mileage, and has really decent power and you wont pay so terribly much for insurance.
Rick

writes:
1989 Chevrolet Camaro RS Review
Pros
Duh, this is a no brainer. It's my first car.
Cons
Doesn't have a posi.
A Decent Entry Level Car That Can Grow With Your Driving Level. — Power, two stars: It's a 2.8 V6, what can you really expect? Looks/ Style: First off, IT"S A CAMARO! Second, it's still sleek and takes some of it's styling from the corvette of the time. Maintenance cost: Not bad, I work on it myself. Back seats: The only people who could sit in those things are little people, and double amputees. No joke there is three inches between the front of the back seat, and the back of the front seat. We all know there only there so it's considered a "Passenger car" on the insurance forms. Handling: Fairly decent, after all it was Built for the International Race Of Champions, better known as IROC. Yes, it has the potential to be a quarter mile beast, but it can also be a decent auto crosser. Front seats: Pretty average. Nothing special, but they are fairly comfortable. Reliability: It's an RS with a 2.8, been worked hard over it's 119K miles. Yet it still starts up on the coldest day MN winter has to offer after sitting for two months untouched. Family car: One word, NO! Fuel economy: Compared to a top fuel dragster this thing absolutely sips fuel at 12mpg highway. Price: Averaging between 1-5 grand for a fairly decent running 305 tbi model, I'd say it's a good entry level muscle car with the potential to decimate most vehicles on the road. Cargo capacity: I can fit a pair of twelves in the back and maybe a shirt or two. Overall: Maybe I'm biased (I'm a chevy guy, and this is my first car) but I like it. The looks may not be everybody's cup of tee, to me this car is a winner.
Primary Use: Sport/fun (spirited driving, track racing, off-roading, etc.)
Jeff

writes:
1989 Chevrolet Camaro IROC Z Review
Pros
Decent handling in it's day. Shred tires on demand.
Cons
creaked like a mother. Tires every year.
The Cockroach — My favorite car hands down. had the 5.0 TPI motor. Got spanked by Mustang LXs, but it was a lot more comfortable. Modified the holly crap out of it ... exhaust, cold-air, Paxton SC, etc etc. Buddies called it the Cockroach cuz of the factory louvers and the maroon paint.
Justin

writes:
1989 Chevrolet Camaro IROC Z Review
Great — Good acceleration and top speed. Handling is great! Overall quality is awesome for its age. Strong, sturdy car. Gas mileage sucks, and maintenance can be expensive. Overall, car is in great condition and runs good. Will be a street-legal, SCCA racecar in the near future. In other words, best damn car I've ever had, period!
Ranger762

writes:
1989 Chevrolet Camaro IROC Z Review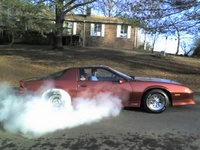 Chevrolet Starting To Get It Right. — I owned an 1989 IROC as well as a 1986 IROC. The TPI injection produced tons of BHP. And I remember being pinned to the seat the first time I really got into the throttle. I currently own a 1989 Camaro RS I got this car as I project car. But I can recommend the IROC model as it is great right from the showroom floor.And now there are tons of after market products to really get the power this car is able to produce. I know of many peolpe that have only gotten 400BHP and more from these cars. Good luck and enjoy your car. Thats the most inportant thing in any car that you own. Enjoy it and take great care of it. Terry L White
Owner for 3 years, 0 months
Miles Driven per Year:10,000
joshua_50

writes:
1989 Chevrolet Camaro RS Convertible Review
Pros
its really fast and its a convertible too. another good thing is that it comes stock with all season tires so you dont have to buy winter tires
Cons
it cost alot to insure and the maintain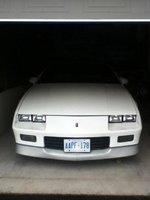 Nice Classic Camaro — i like how its a convertible and its condition for a car thats 20 years old. another thing i like is that the it has folding rear seats for more storage. something i dislike about it is that it doesen't have a glove compartment under the dash like most cars. the gas econmy i'd say would be good for daily driving. to maintain and fix it is alot of money same as the insurance its alot of money because of its age and since its a convertible.
Primary Use: Sport/fun (spirited driving, track racing, off-roading, etc.)
Russell

writes:
1989 Chevrolet Camaro RS Review
Pros
It's a Camaro and is intrinsically valuable to some... mostly teenagers. It had a V8/5-speed from the factory, it was reliable, and it got 28 mpg in stock form.
Cons
Terrible materials quality, particularly inside. Anemic engine, brake are marginal at best, all style - no go, horrible ride quality, poorly built, leaked water from day one, paint peeled off several times starting at 4 months old, needed complete restoration at 110k miles...
For The Enthusiast... And Only For The Enthusiast! — If you really like the looks of this car, and I mean really like the looks, then buy it. Before you do, though, I recommend you seriously evaluate your mechanical skills! We bought this car new and had it for 21 years. It was a reliable car for the first 100k miles, I won't dispute that, but after that it became a maintenance nightmare. Now, I will qualify that with my personality, I need my cars to look and function like new and I maintain them religiously. At around 100k miles it started burning oil significantly, we experienced many non-starts due to electrical issues, and shortly afterward the transmission started popping out of gear, the rear-end bearings failed, and electrical gremlins popped-up left and right. Don't even ask about that VATS security system - GRRR! Keep in mind, I'm only referring to the mechanical issues so far. This ignores the paint (yes, I had a "bad primer" car) that wasn't fixed until I had it sanded down to bare metal in 1999 and started again from there. Then there is the interior components - the door pulls peeled within 5 years, as did there OEM replacement parts. I finally solved that with 1983 pieces from a junkyard that lasted the last 11 years I had them in the car. I also had the dash panel crack in 1995. Not just a small crack, it went from the instrument cluster corner across the entire dash to the passenger side air outlet! I'm not talking about the dash pad (that also started cracking within 4 years), I mean the actual dash panel! I replaced that as well with a 1983 piece from the junkyard (same car). The door panels fell apart after 12 years, and I mean literally fell apart, the console door cracked, the console cracked, the gauges failed, the seat foam compressed quickly, and the headliner fell in 1997. Let's not miss the door rattle it had from day one that I finally traced to missing pieces on the window track in 2004! Missing from day 1!!! All of this came to a head in 2002 and I began a full restoration that saw about $40k in repairs and upgrades to keep the wife happy. I installed a ZZ4 crate engine, G-force T-5 with Centerforce Clutch, and a Moser rear end. The marginal brakes were upgraded to C5 Corvette calipers up front with 12" rotors, and the PBR rear disc brakes with a 1999 Z-28 master cylinder using a 1LE prop-valve which really made a huge difference in the braking. I also went through the entire electrical harness and upgraded several circuits with better wiring and terminals. The car's paint was upgraded, new Recaro seats went in, the gauges were gone through and upgraded with Auto Meter mechanicals, I rebuilt the steering column and installed Astro van column bearings, added a MOMO wheel, installed an Alpine stereo, recovered the rear seats with Recaro material (to match the front), replaced the soggy carpets, replaced all the weather-stripping with Metro parts, replaced/rebuilt the window regulators and all the little trim parts and door panels, installed Spohn subframe connectors and lower control arms, Koni shocks, Eibach springs, had the front spot welds stitched throughout, front lower control arms rebuilt, and a new driveshaft made for it. While doing the rebuild/restoration we upgraded the exterior with IROC tail-lamps, grill, and polished OEM IROC wheels. These are not cheap cars to maintain or rebuild, be aware of that when looking at them!
Primary Use: Sport/fun (spirited driving, track racing, off-roading, etc.)
Alex

writes:
1989 Chevrolet Camaro RS Review
A Good Project Car That Needed More Tools And More Money. — For a project car it was a good buy. Unfortunatly I never got to drive this car under its own power. It was sleek and it came with a 305 V8, but the previous owner had an engine fire which melted much of the wiring. I know the engine output is supposed to be around 200HP much like my V6 in my Firebird that I currently own but then again for all I know it could have had internall work done on it. I did drive this car twice but not under its own power. It has since been sold.
LogiciaBil

writes:
1989 Chevrolet Camaro RS Review
Pros
Fast, Powerful, Mean Looking, Sounds Nice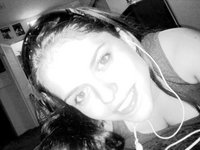 Overall I Like This Car — Overall, when he wanted to work, he was great! I didn't like the interior too much, however it was very roomy. The engine had a few parts that seemed more difficult than they should have been to replace. I do enjoy riding in this car. Now that some mods have been made (complete engine swap) the car sounds amazing and is definitely intimidating. The gas millage on this car is horrible lol, but what do you expect from a 8 cyl. It does handle well and even when we could have lost control/traction when the road is wet, it tended to gain control quickly.
Primary Use: Sport/fun (spirited driving, track racing, off-roading, etc.)
Mike

writes:
1989 Chevrolet Camaro RS Review
Looks Good Just Needs A Better Engine And Trans — it does about 0-60 in about 9 seconds good handling okay brakes it all stock except for the flowmaster muffler on it it. doesn't have any rattles the clear coat is kinda going to crap and needs more room interiour wise, i like the body style but this one got in a wreck so it's mulitcolored but it looks like a jesus sandal. gets about 13 mpg in the city and about 18 on freeway and just basic tune ups. hell yeah this is a fun car needs more horsepower but it's still fun
Primary Use: Family transportation
Displaying 1 - 10 of 55 reviews
1
2
3
4
5
6
Next
Ask CarGurus about the 1989 Chevrolet Camaro
Average response time:
8.5 hours
,
# of Chevrolet Camaro owners:
19,213
Looking for a Used

Camaro

in your area?

CarGurus has

34,777

nationwide Camaro listings starting at

$2,500

.