1989 Chevrolet Camaro
User Reviews
Average Ratings from

62

reviews
Performance:
Appearance:
Build Quality:
Overall:
Review Highlights
Click to filter reviews below
Displaying 1 - 10 of 62 1989 Chevrolet Camaro reviews.
Rick

writes:
1989 Chevrolet Camaro RS
Review
Pros
Duh, this is a no brainer. It's my first car.
Cons
Doesn't have a posi.
A Decent Entry Level Car That Can Grow With Your Driving Level. — Power, two stars: It's a 2.8 V6, what can you really expect? Looks/ Style: First off, IT"S A CAMARO! Second, it's still sleek and takes some of it's styling from the corvette of the time. Maintenance cost: Not bad, I work on it myself. Back seats: The only people who could sit in those things are little people, and double amputees. No joke there is three inches between the front of the back seat, and the back of the front seat. We all know there only there so it's considered a "Passenger car" on the insurance forms. Handling: Fairly decent, after all it was Built for the International Race Of Champions, better known as IROC. Yes, it has the potential to be a quarter mile beast, but it can also be a decent auto crosser. Front seats: Pretty average. Nothing special, but they are fairly comfortable. Reliability: It's an RS with a 2.8, been worked hard over it's 119K miles. Yet it still starts up on the coldest day MN winter has to offer after sitting for two months untouched. Family car: One word, NO! Fuel economy: Compared to a top fuel dragster this thing absolutely sips fuel at 12mpg highway. Price: Averaging between 1-5 grand for a fairly decent running 305 tbi model, I'd say it's a good entry level muscle car with the potential to decimate most vehicles on the road. Cargo capacity: I can fit a pair of twelves in the back and maybe a shirt or two. Overall: Maybe I'm biased (I'm a chevy guy, and this is my first car) but I like it. The looks may not be everybody's cup of tee, to me this car is a winner.
Primary Use: Sport/fun (spirited driving, track racing, off-roading, etc.)
Justin

writes:
1989 Chevrolet Camaro IROC Z
Review
Great — Good acceleration and top speed. Handling is great! Overall quality is awesome for its age. Strong, sturdy car. Gas mileage sucks, and maintenance can be expensive. Overall, car is in great condition and runs good. Will be a street-legal, SCCA racecar in the near future. In other words, best damn car I've ever had, period!
TDJ383

writes:
1989 Chevrolet Camaro RS
Review
Pros
It's a chevrolet for starters. Parts are easy to find an usually cheaper in price. There are many upgradeable suspension parts for front and the rear. You can use the sway bars from an I-Roc Z/28. They are slightly larger in size and performance link kits and bushing that improve handling. That's what I've done intil I save the money it takes to buy upper and lower control arms. I know every bolt and nut size an it's location. I've built 3 different years of 3rd. gens. You can adjust your pinion angle for better traction by installing a aftermarket component that mounts to the tail end of the tranny.
Cons
Not a full framed under carriage. Needs a rack and pinion like the 4th generation. The steering sucks @$$!!!!!! The biggest con is that it isn't a 1st. Gen.

A Work In Progress. — The lack of horsepower and a better gear ratio from the factory would have been nice. There are also some models that will be worth a chunk of change in the future. I wish that the upgrades weren't so exspensive. Having a serp. belt and not the old V-belts set up.
Primary Use: Commuting to work
Kennythetechnician

writes:
1989 Chevrolet Camaro RS
Review
Pros
I built this motor for horse power and fun
Cons
gas milage and speeding tickets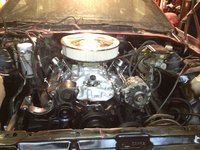 Fast — I found this car wasting away with a 5.0 with automatic transmission body was in great shape needed a little interior work ut that was fine, so i striped out the motor and transmission and built and installed a 5.7 litre then installed a 5 speed transmission. this car is fast and fun.
Primary Use: Sport/fun (spirited driving, track racing, off-roading, etc.)
dhollins

writes:
1989 Chevrolet Camaro IROC Z Convertible
Review
Cons
Wanting bigger motor

Black Pearl — I've owned this IROC for 15 years. I bought it from the original owner here in Oregon. It's always garaged and covered. It's been a mulitple award winner at regional car shows. I would not sell or trade it for anything!
Primary Use: Sport/fun (spirited driving, track racing, off-roading, etc.)
Doug

writes:
1989 Chevrolet Camaro RS
Review
Pros
-Pretty inexpensive.
-Has a loud, deep, roaring engine (Very cool very sexy).
- Very dependable if you know the basics of car repairs and change the oil regularly.
- Has T-Tops which are always fun.
- Lots of room and space under the hood, that make it much easier for self-car repairs.
- Has a very big and open back windsheild, which makes for very easy visablilty of the road behind you, plus has very small blind spots.
-The automatic transmission comes with overdrive which makes for surprisingly good gas-mileage for a V-8. ( I would say around 18 miles a gallon).
- You are able to find any part you need at a Junk Yard, these baby's are a dime a dozen and can be found all over for replacement parts. (A little elbow greese goes a far way).
- Lots of foot room for the driver and front passenger of the car.
- Runs extremly well on long drives (Driving from San Deigo to Los Vegas for example) where you have a long stretch of road, while driving 70-80 mph.
- Not too crazy of speed or acceleration and is very easy to handle.
- A great first car.
Cons
-Though it has some good pick up, it isnt that fastest car on the road.
- If you have T-Tops on your model expect lots of leaks (Rain can be a huge bummer and soak your two back seats).
- Once this car hits 130,000 miles driven, expect all original engine parts to begin giving out and needing to be replaced within the next 6-8 months (This may vary depending on if you change your oil regulary and know the basics of car repairs).
- Engine will get very hot (but not overheat) when driving in stop-start traffic.(I would suggest not buying this car if you live in L.A. for example, but if you do. I suggest buying a after-market radiator fan or a lower temperature release thermostat.)
- If you do your own car repairs, replaceing the speedometer can be very unpleasent. (I would suggest going to a pick-N-pull and tearing into a junked camaro to understand how you will replace it.)
- Has a pretty long nose; Can make it hard to proceed with short turns and parking in small and narrow places.
- With windows rolled up you will still hear a feint wind blowing sound as if your window was still rolled down just a little bit.
- When the windows are rolled down you do not get alot of wind circulation through the car when driving at low speeds do to the angle of the windows.
- I would not buy this car unless you can change your oil regularly (Chevy sports cars will run forever, but only if you know basic car repairs and can do all the basic check ups and fluid replacements regulary.)
- Very small leg room and over all room for any people that will be sitting in the back two seats (basically the back to seats are for is someone really needs to hitch a ride otherwise don't be expecting to have four people in the car daily.)
- Requires premium gas, which can be a con. I think of it as the cost of a fun toy.
- Does not have the best gas millage under 20 miles a gallon.
- Has a very loud engine so if your looking for something quite this isnt the car for you.

A Great First Car To Really Get A Begineers Feel Of How A Sports Car Feels, Sounds, And Drives. — This is an awsome car for anyone young kid that wants a hot looking sports car for a low price and a deep roaring engine with some decent pick up. I great first car for sure.
Jonny

writes:
1989 Chevrolet Camaro RS
Review
Pros
I know this car inside and out, down to every last wire in the car.
Built From The Ground Up, Not Bought. — It has quick response (self installed modified 355 Tuned Port Injection engine) breaks decently, could use upgrades there, but hey, its 20 years old. It has no options, which I like, very basic interior, still a muscle car feel on the looks. I have rebuilt damn near everything on it, so nothing is in current need of replacement, it gets decent gas mileage, but it is an older V8, you cant really expect 30 mpg. The car handles like a dream, I up graded the entire suspension when I swapped the motor. She squeaks and rattles a bit, but once again, 20 year old car that hasn't had a full restoration done.
Primary Use: Commuting to work
Brittany

writes:
1989 Chevrolet Camaro RS
Review
Pros
fun to drive, acceleration was great
Cons
not good for a daily driver if you're trying to conserve gas
89 Camaro Rs — Performance- acceleration was great, braking was good, handling was ok. Build Quality- the driver side window leaked- i found out at the car wash! Cost- it was a gift from my Grandpa, i don't remember the mpg Appearance- blue paint, dark blue interior- a few dents Fun Factor- It was so fun driving this car! I would race people all the time, and stomp on the gas nearly every time I had the chance.
Hanh

writes:
1989 Chevrolet Camaro IROC Z
Review
Pros
my friend like this car
Cons
this car ok and my daughter want it
This Car Ikeep It For My Daughter — I like this car because the body looking good and run very stable on freeway and can run over 100 miles fell good but steering wheel feel soft make me scared but still run fast to my friend house for that time
Primary Use: Sport/fun (spirited driving, track racing, off-roading, etc.)
JayandAlaina

writes:
1989 Chevrolet Camaro RS Convertible
Review
Pros
Unique because of the convertible top, but it's still a Camaro so parts are everywhere. Not much interior space.
Cons
Not the Iroc, and has the smaller 5.0 V8
The Fire Engine Red With Stripes, And Convertible, Turns Heads! — This car is loud, heavy, powerful, and mean, just like me. If gas mileage is your concern, this car is not for you; however, the torque in this car is awesome. The best use of this car though is to drop the top and cruise.
Primary Use: Sport/fun (spirited driving, track racing, off-roading, etc.)
Displaying 1 - 10 of 62 1989 Chevrolet Camaro reviews.
Looking for a Used
Camaro
in your area?
CarGurus has
34,322
nationwide Camaro listings starting at
$1,950
.