1988 Pontiac Fiero
User Reviews
Average Ratings from

26

reviews
Performance:
Appearance:
Build Quality:
Overall:
Review Highlights
Click to filter reviews below
Displaying 1 - 10 of 26 1988 Pontiac Fiero reviews.
Henri

writes:
1988 Pontiac Fiero Formula
Review
Pros
Handling, engine sound, The exterior body panels are made plastic so it`s rustproof
Cons
Steering capacity is little too small, Original shock absorber are thin. Engine is little powerless if you haven`t tuned in it.
Nice Mr Sport Car — This car is pretty unique nowadays. It`s realy nice mid-engined sport car with 2.8 liter V6 engine and 5 speed transaxle.Original suspension system is so called VS6, but im going to retrofit coil-over suspension anyway car is good handling.In my case there is only little need repairs.Apperance interior simple, little sporting look gauge panel, exterior you like it or not. I think it`s sporting look and I like it a lot.
Krez

writes:
1988 Pontiac Fiero Base
Review
Pros
Good suspension and handling
Cons
small and low to the ground, not made for the taller folks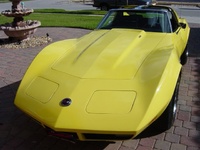 Fun Little Sports Car — Even thought they only built this car from 84-88. The 88 model was the best year. All others with problems related to gas leaks and fires in the engine compartment. I do not have a photo of the old Fiero, but all in all it was a fun car to drive. But was not fun for tall people like me to get in and out of.
Owner for 2 years, 0 months
Miles Driven per Year:6,000
Richard

writes:
1988 Pontiac Fiero Base
Review
Pros
This car was built as a two seater mid-engine sports car, similar to, but a lot smaller than the Chevrolet Corvette. It has a sleek, wide, racy body meant for speed and handling. It is a really good car to just drive for the sheer fun of it, especially if it has the 5-speed manual transmission and the spoiler. It will really hold a curve due to its wide stance and low center of gravity. Parking and daily commutes are a cinch, and with its' small size, visibility, and light weight, its' really a lot of fun and very affordable (great mpg)!
Cons
With it's small size, lack of a rear seat, and mid-engine design, interior space is limited to behind the seats, which isn't much. However, there is a small storage compartment under the hood and also in the trunk. Plan on packing very light if you are taking a long trip, or buy a luggage rack for the rear. On short trips it rides well, but on long ones it can be tedious due to the lack of room in the vehicle itself. If you're looking for a large family type vehicle, this is not the car for you. As mentioned, this is a two-seater sports car, built for the thrills of "letting it all hang out!"
Small, Fast, Agile Car Built For Fun, Yet Less Expensive Than Foreign Sports Cars! — I don't think I've mentioned how safe the Fiero is, but with its wide stance and agile cornering it's not very apt to turn over due to its low center of gravity even at higher speeds. Even though the 2.5 ltr. four cylinder doesn't have the power or acceleration the 2.8 ltr. six cylinder does, it can still hold its own. Braking and handling are very good. Since the Fiero is small, feeling safe and in control comes natural. It was originally known as a "poor man's Corvette" due to its' economical benefits and because it was the first American mass produced sports car!
Primary Use: Commuting to work
Tyler

writes:
1988 Pontiac Fiero GT
Review
Pros
mid engine, slow center of gravity handles like its on rails, always a good time
Cons
takes some work to make a good everyday reliable driver, overheats due to radiator in front and engine in back
Very Sexy Car Can Be Anything You Want It To Be — very light high very manuverable slow at the moment great car to rebuild getting 3800sc series 2 soon gas milage is great only 135 hp with stock 2.8l alot of mods available for any taste in cars mid engine is definately something new to drive
Primary Use: Sport/fun (spirited driving, track racing, off-roading, etc.)
Jeremy

writes:
1988 Pontiac Fiero GT
Review
Pros
One of the more innovative American cars made
Innovative American Car — Back in the day, the 1988 Pontiac Fiero GT was the only Fiero worth owning and Road & Track magazine said it would become a car classic and become worth $100,000 in a few years. When so lady smashed me and it was declared "totaled" the insurance company had a different opinion on it's value. ; (
Primary Use: Commuting to work
Joshua

writes:
1988 Pontiac Fiero Formula
Review
Pros
Uncommon, a beautiful voice, and surprisingly fun to drive.
Cons
Poor fuel mileage on the V6 (The Iron Duke engine mated to a 5-speed with economy gearing will have no problems with 30 MPG), old car will require plenty of money to restore.
Not Practical Or Economical, But She Has The Look And The History For A Gearhead To Restore. — I found this car, and picked it up for the low price of 900 bucks a year ago. It's an old car, so I shall judge it accordingly. Power-wise, it is pretty low for a vintage sportscar, but the rear-mounted V6 does have enough grunt to move the car down the road, and the rumble is absolutely erotic compared to a modern engine. The interior is nice and simple- it's sadly cheapened up from previous-year Fieros (there are no speakers mounted in the headrests, for instance), but it is quite functional, and is a little more comfortable than a new car. Handling is merely average, but for its vintage and average state of neglect, the stock suspension takes well to decent tires, and the weight ensures that tail can throw itself out when you tell it to. (With the automatic transmission, don't expect it to stay out, it always bogged down on me when I put too much drift into it). With age, however, comes worn bones, and the example I have features lots of minor electrical quirks and a few major mechanical issues, this is the type of car that you will lose money on trying to restore; that said, you will enjoy breathing life into such an unusual example of GM earnestly trying to build a car to stand up to Porsche. As a side note, the 1986 model year did have recalls associated with engine fires- however, none of the other model years were affected, and any '86 models that haven't been serviced to the recall have burned down years ago. These cars are not powder kegs.
Primary Use: Sport/fun (spirited driving, track racing, off-roading, etc.)
Paul

writes:
1988 Pontiac Fiero GT
Review
Pros
Fast as lightning, 40+mpg, handles like a porsche, turns heads all around - a fairly rare, unique car now.
Cons
Automatic tranny; unfortunately there is no standard transverse-moutable transmission that will hold up to the power the engine creates. Thats because I put a big engine in though, it's all my fault.
My Project, My Dream Car. — This is a totally custom build for me. I've scrapped the original 5speed manual tranny, and 2.5litre 4cylinder iron-duke engine for a massive powerhouse 3800 Series II Supercharged motor. Also swapped the transmissions to the automatic heavy-duty tranny that comes with the Series II 3800SC. The car started as a coupe model, I've swapped every body part on it for GT stuff from an 86GT, and put in all the power options, power windows, mirrors, stuff like that. No AC, no power steering, no nothing that takes power away from the wheels. I love it.
JohnBoySS

writes:
1988 Pontiac Fiero Base
Review
Pros
Nothing at this time
Cons
Nothing at this time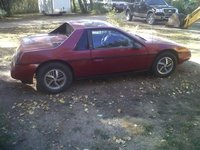 Nothing At This Time — The car looks really great for an 88. I've always thought they were sporty. I had to fix a lot of electrical problems when I first got it. Still have a few fuel issues to deal with. But, all in all I do like the car so I don't really mind.
Primary Use: Commuting to work
KansasKowboy

writes:
1988 Pontiac Fiero GT
Review
Pros
Cool looks, sporty handling, fab stereo, mid engine cool factor
Cons
getting in and out of the car isnt easy but is worth the trouble

My 1988 Fiero Gt — I have wanted a Fiero since they first came out in 1984. Finally in the summer of 2008 I got my dream car. I always wanted a sportscar and for a man on a budget the Fiero is a good choice. The 1988 GT model is a true sports car. Mid-engine V6, sexy sounding exhaust system, classic sports car looks like it is going fast sitting still. I drive the car to work everyday. Interior is simple and sporty with all the right gauges. People complain about the power but I think my Fiero has great pickup and accelleration. I have no complaints about the engine. I get about 16 miles per gallon in town and 20 plus highway. I think the car looks great and is a blast to drive, especially on hilly curves. I even get waves from Corvette owners.
Noremac1993

writes:
1988 Pontiac Fiero GT
Review
Pros
The car handles better than anything I have ever driven. It takes turns 20 miles an hour faster than any of my other cars, it daintily sipped gas, and looked great.
Cons
It over heated all the time, like every 20 minutes, going slower than 20 means the lack of power steering had an effect so it sucked. It was ridiculous to get into since you sit 3 inches off the ground, felt cool though, and the 145HP V6 was pathetic.. It could handle well but accelerated like a bus.

And oh yeah, basically nothing worked on it, the windows, mirrors, lights, engine occasionally, and the emergency brake wouldn't quit beeping at me.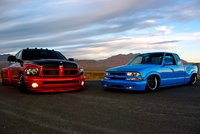 My Reasonable Little Wannabe Super Car. "ambitious But Rubbish"- Top Gear — I loved how easily this car tamed the back roads of West Virginia and Ohio, it made me feel one with the car, and really let met push it with no fighting back. I could have pushed the car beyond it's limits and it would have forgiven me. The car was amazing to own. However, after a bit, the intake gasket melted and I couldn't afford to fix it. That's what I got for being a lazy High school student with no job. Oh well. This car is the epitome of a supercar, without the price of one. It breaks down all the time, nothing works on it, but when you drive it, you really drive it... For ten minutes, then it overheats.
Primary Use: Sport/fun (spirited driving, track racing, off-roading, etc.)
Displaying 1 - 10 of 26 1988 Pontiac Fiero reviews.
Looking for a Used
Fiero
in your area?
CarGurus has
60
nationwide Fiero listings and the tools to find you a great deal.