1988 BMW 3 Series
User Reviews
1988 BMW 3 Series
Review Ratings
Average Ratings from

56

reviews
Performance:
Appearance:
Build Quality:
Overall:
Review Highlights
Click to filter reviews below
Displaying 1 - 10 of 56 1988 BMW 3 Series reviews.
Nikolay

writes:
1988 BMW 3 Series 320i
Review
Pros
fast, solidly built, corosion-resistant
Cons
prone to electric failures, erratic road behaviour in winter conditions
Not Good Enough For Its Money — Excellent acceleration, braking and handling. The steering wheel is a little too big, seats are not ergonomical. Excellent build quality, unhappy with the electronics and electrical equipment. Styling is great, but indoor space is insufficient. Cost of ownership can be quite high due to expensive support. The car is definitely fun to drive. I can recommend it if value-for-money considerations are not a factor in your choice.
Ryan

writes:
1988 BMW 3 Series 320i
Review
Pros
Excellent body
Smooth shifting
Excellent in corners
It's authentically European

Cons
It's old
6 pack CD changer pops out when you hit too many bumps
Mild burning smell comes when running hard
Bmw...need We Way More — This is my first EVER BMW. If it's any indication of the build quality of all BMWs, then I will never buy domestic again! This thing is solid. At 20 years old, most cars would be hobbling along, sputtering every time you throttle up. This thing never hesitates, takes corners like it's brand new, and generally is in better shape than me. It's deceptively large. While it isn't much longer than my 2 door Sentra was, this thing can handle much more cargo, and has ample leg room for my 6'2" 200lb frame.
gr8skyr

writes:
1988 BMW 3 Series 325ix
Review
Pros
handling, manual transmission, looks, rarity
Cons
someone had a money factory to keep it this nice all this time

You Just Can't Beat The E30's For A True Drivers Car. Built "ultimate Driving Machine" Reputation — Had my 88 25ix for exactly four days now. It's a dream so far. Saw it on CL and drove 230 miles to see it and pick it up. The PO held it for me for a week till I could get there on my word only. I love that guy! Who does that? No one. Back to the machine. H&R springs. Bleisten shocks, new clutch 20k ago, timing belt 7 ago, pristine 2-owner condition. Had a little wheel shake when I drove it home. But a quick stop for tire rotation and balance made it factory sick again! Thanks Les S. Now it's really responsive, 168hp and quick gearing make it quick off the line, but not too extreme for around town use,. Really excels on twisty roads where you can go through the gears a bit though. So solid for a 22 year old car, seems like it was very well engineered and built. Handling- like on rails Braking, super responsive and stops quickly. funner than a barrel of monkeys to drive.
Primary Use: Sport/fun (spirited driving, track racing, off-roading, etc.)
Andre

writes:
1988 BMW 3 Series 320i
Review
Pros
Exciting to drive, comfortable, classic
Cons
Some reliability issues, not the lightest runner or cheapest to maintain
My First Real Car — The E30 3-series BMW is one of those iconic cars from the 80's that really put BMW on the map. Mine was a manual and being a small 2 litre inline 6 engine it operated mainly on revs, or in lamens terms it wasn't the easiest to drive but once you get the hang of it it is a lovely car to drive. Mine had a performance exhaust on which made it sound awesome.
Primary Use: Commuting to work
Brandon

writes:
1988 BMW 3 Series 325i
Review
Pros
Quality construction, good amount of torque and horsepower, sexy, pretty cheap right now
Cons
Twenty year old car, costs a bit more than the Japanese cars to upgrade.
German Engineering At Its Best! Not Pricey At All And Doesn't Have Any Gimmicks. — The E30 3-Series BMW, great cars, not pricey today, and have plenty under the hood. It is the end of the more boxy looking BMW designs which to me look much better than the E36 style that follows it, and it remarkably light for what you are getting. You want a fun car? A car that will stick to the road but has a tail end that is always down to play? This is the car you need then.
Grier

writes:
1988 BMW 3 Series 316i
Review
Pros
Great clean, good looking and driving car
Cons
Not very fast and dosen't drive well on poor conditions
Great Car. — The 1.8 8v non-injection so its not the quickest, but not bad for what it is. Drives brilliantly in the dry and corners flat and level, but very unpredictable in the wet/cold. Very nice looking car, classic E30 looks untampered with. Very good condition inside and out. Carb model so not great on fuel, especially on heavy footed drives
Primary Use: Commuting to work
Matt

writes:
1988 BMW 3 Series 325e
Review
Pros
Great sports car. 2.5/2.7 liter straight six 120/170 HP.
Cons
I hate how they designed the lower ball joints. If they fail you have to replace the whole lower control arm. If you do I suggest a set of ratcheting combo wrenches.

Great! — Great cars and many were made so finding parts are easy either at a wrecking yard or online. They handle very well and come standard with anti lock brakes, cruise control, sunroof, power locks and windows. Additionally an OBD (on board computer) that reads MPG, miles left on the tank, MPH exceed warning and other functions. And we're talking about an 80s car. BMW far ahead of it's time.
Primary Use: Sport/fun (spirited driving, track racing, off-roading, etc.)
Michael

writes:
1988 BMW 3 Series 325e
Review
Pros
it last forever and its fun as hell to drive! and cheap to mod
Beast — its a FUN car, the germans know there stuff. i really enjoy driving it, and even though its 22 years old she still pulls really hard. just look out for rust, and the subframe and bushing tend to be old at this point
Primary Use: Sport/fun (spirited driving, track racing, off-roading, etc.)
colinmollenhour

writes:
1988 BMW 3 Series 325is
Review
Pros
Makes a great DD + track/fun car.
Cons
None except the high miles.

Great Bang-for-buck Performance Car If You Like Handling. — Considering the age, has good acceleration. Perfect balance and a blast to drive with some good tires. At over 200k miles it has needed some work such as steering rack (upgraded to Z3 rack), clutch and flywheel (replaced with single-mass and M3 clutch), practically every bushing in the car, etc.. Only mechanical problem that hasn't been easy to fix is a driveshaft vibration under low speed acceleration but I believe it is the original driveshaft still. Interior is holding up except the front seats and dashboard. Overall awesome car, just try to get one that was never seriously damaged. You'll probably never again see a BMW under 3000lbs so this is a great BMW to own.
Primary Use: Sport/fun (spirited driving, track racing, off-roading, etc.)
nateroot

writes:
1988 BMW 3 Series 325ix
Review
Pros
First one up the mountain every powder day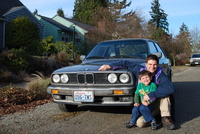 Cruising Down An Icy Or Snowy Road With All Four Wheels Clawing At The Snow. — Rallying it around in snowy, frozen conditions. With the inline 6cylender engine has the 225 horse power to fully mover the tourqe from wheel to wheel. The no wheel slip or looses traction ever. This car is awesome. Humming along at 3200rpm 45mph in third gear is heaven, give it some gas and bam you are at 65mph 42rpm cruising never temped to drop into fouth. Very smooth.
Primary Use: Commuting to work
Displaying 1 - 10 of 56 1988 BMW 3 Series reviews.
Looking for a Used
3 Series
in your area?
CarGurus has

34,889

nationwide 3 Series listings starting at

$1,995

.