1987 Volkswagen Cabriolet
User Reviews
Average Ratings from

13

reviews
Performance:
Appearance:
Build Quality:
Overall:
Review Highlights
Click to filter reviews below
Displaying 1 - 10 of 13 1987 Volkswagen Cabriolet reviews.
sloppyjoe1977

writes:
1987 Volkswagen Cabriolet
Review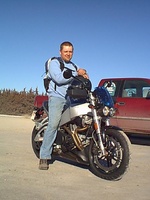 littlelucky7

writes:
1987 Volkswagen Cabriolet
Review
Pros
Compact car, good gas mileage, looks, leather
Cons
parts are hard to find, parts that you do find are expensive, some VW dealers don't have parts, double parts (doublé expense), cramped driver and passenger, read Windows will not roll down

It Is A Pretty Little Headache — I bought this car with 86,000 miles on it from someone who drove it ocasionally. It ran pretty good for a while but then the parts started going out one by one. The clutch cable streches for some reason, it has two of everything. two fuel pumps, two fuel filters, and they are a pain in the butt to find (as well as any other part for this car) because it is no longer in production. I called a VW dealership and they were surprised to hear this car is still out there. They had no parts for it. Any parts I bought i had to special order and wait for it to come in the mail. The back seats are allright, almost feel like a normal car but the front seats seemed a Little cramped. Shoved in there, the dash feels like it is "in your face" and the radio will turn on and stay on even when the car is off. I hated how low it sits because you hit a pot hole or bump it hits the bottom of the car, also even a Little bit of water (say after a rainy day) will get sucked up and damage the fuel pump that is right under the car on the passenger's side. Even inside its casing, i had to replace two pumps. The top will get stained by the sun or any other foreign particles and it is very hard to clean off. The fan seems to go out constantly as does the shifter. Sometimes while washing it, if enough water gets under the Hood it will sort of LOCK the clutch and you will not be able to move the car for a couple of days. The door handles on the outside break easily, leaving you locked out or forcing you to leave a window down. The locks on the doors may break also and it is virtually imposible to take the door apart. I wish the back Windows would roll down but they just roll down half way, thats the way they are made. It does look good though with the top down, looks like a completely different car. It scratched the itch of wanting a convertible, but i gotta say there were many times where i wanted to grab a hammer and make it cough up my money back. I am selling it tomorrow for way less than what i paid for it and I AM JUST HAPPY TO GET RID OF IT.
Primary Use: Commuting to work
centaur8551

writes:
1987 Volkswagen Cabriolet
Review
Pros
A blast to drive, Quick and nimble, turns heads (everybody knows someone who had one)
Cons
Back seat is for storage or pets, has a little quirky shifting for manual tranny but once you learn its not bad

Fantastic Car — I have had the car for three years now and it has been the best investment I've made in a long time. Very dependable and fun to drive, great gas mileage and a real head turner! This auto is a keeper.
Primary Use: Family transportation
oceola46

writes:
1987 Volkswagen Cabriolet
Review
Pros
Can't beat the milage and the handling.
Cons
Top leaks at the front corners, does not like cold wet weather.

Natalia

writes:
1987 Volkswagen Cabriolet
Review
Pros
Strong car (unless you get hit from the front and bend the 'shock absorbers' frame ie: unibody)
Cons
The seating (and shifting) isn't the most comfortable, but that may just be me because i like the feel of a sporty car.
87 Vw Cabriolet — So solid. Everything on this car was mint and tight. Good on gas. Handled amazingly. Nothing beats leaving work, popping the top down and hitting the highway for some all natural air conditioning :D I bought this car off a dealer my Dad knows and it was a one owner! The roof was 'triple layer' and was just as warm inside as a regular car. If you ever get a Cabriolet, look for this type of top!
87Baby

writes:
1987 Volkswagen Cabriolet
Review
Pros
Very dependable! I have never loved another car! Most fun, comfortable, (cute) quiet, sturdy, economic, classy. Very few problems the first 20 years.
Cons
Some problems with locks. Heater knobs pull off. That's nit-picking!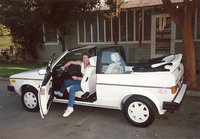 Perfect — It fit me perfectly and was fun to drive. For work, it was extremely dependable every day with 100 mile commutes. The motor purred. I always felt safe and in control, as it handled well. Still gets looks everywhere it goes! I found it to be a very unique car-my lifetime car!
Primary Use: Commuting to work
Zach

writes:
1987 Volkswagen Cabriolet
Review
Cons
No point for the rear seats
Awesome First Car — great on gas also fun little car for the weekends says it can seat 4 but i reconmend 2 rear seats good for storage and for a cabriolet it had a great sized boot. The only down side was the age of the car there were some obvious repairs that had to be done
Primary Use: Commuting to work
rtpvwcabrio87

writes:
1987 Volkswagen Cabriolet
Review
Pros
Fun to drive, solid engineering.
Cons
Performance parts quite pricey if available.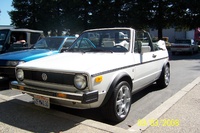 1987 Vw Cabriolet — Very durable car that i would like to keep forever. With 300K miles on it still runs strong, solid body and suspension, 25-30 mpg. A true classic car in the making just like the iconic VW Beetle. An outstanding testament to German engineering.
Primary Use: Sport/fun (spirited driving, track racing, off-roading, etc.)
Pjetar

writes:
1987 Volkswagen Cabriolet
Review
Pros
very good quality build
Cons
uncomfortble, bad sound isolation
Very Good — good acceleration, not so good brakes, handling could be better, roof rattles in bad quality roads... does not need too much money to maintenance because its an old car and it parts is very cheap! I run it on TNG so I get great mileage, dont known how many exactly. great fun on summer.
Primary Use: Family transportation
Marc

writes:
1987 Volkswagen Cabriolet
Review
Cons
Roof leaked and repair costs on the flex pipe exhaust
My Seventh Car — My first convertible car. This was a ton of fun in the sun. Fun to drive and fun to put the top down. Repairs on it were a little expensive with the flex pipe exhaust and problems with the cruise control. The roof did leak on the drivers seat that nothing really prevented during heavy rain.
Displaying 1 - 10 of 13 1987 Volkswagen Cabriolet reviews.
Looking for a Used
Cabriolet
in your area?
CarGurus has
11
nationwide Cabriolet listings and the tools to find you a great deal.