1987 Ford Mustang
User Reviews
1987 Ford Mustang Review Ratings
Average Ratings
from 41 reviews
Performance:
Appearance:
Build Quality:
Overall:
Review Highlights
Click to filter reviews below
Displaying 1 - 10 of 41 reviews
Caitlin

writes:
1987 Ford Mustang LX Review
Pros
When you rip it down the road, wow does it sound beastly, but its that moment when you look at the speedometer and you soak in disappointment when you notice your only going 40 mph! HAHAHA That happens a lot!
Cons
The suspension sucks horribly, and the handling is terrible, I could flip this car so easily it ain't funny...
If It Was Nicer, I Would Definitely Show It Off More, Trust Me! — This has the lousy 4-cylinder crappy motor and 5 speed transmission, rear wheel drive which is fun fun fun! It still runs like it used to 2 years ago when it was my daily driver...yea i trusted this thing to get me places haha but it did the job thats all that counts. Also this car has a mass amount of potential, trust me, the ideas rolling through my mind are awesome that I want to do to this and one day I will!
Zac

writes:
1987 Ford Mustang GT Review
Pros
the car is timeless and performance parts can be found almost anywhere.
Cons
sotck parts are hard to come by and the local autoparts sotres are not that much helpful in ordering them.
1987 Mustang Gt — performance is amzing but finding stock replacement parts at the local auto stores can be a fun filled adventure. finding parts online is the only way to go. car handles great for being over 20 years old. but the interior is timeless and has that nostaglic feeling that will take you back to the late eighties. for being an automatic, its still a fun and great car to drive.
Tony

writes:
1987 Ford Mustang LX Coupe Review
Pros
great,fast, great gas prices
I Would Definitively Recommend One To Alot Of People — this car is very fun throwing heads into the seats and doing as many burnouts as possible without having to buy more tires i would definetly let alot of my friends drive this mostly because this cars handling is just awesome.
Primary Use: Commuting to work
shilterbran

writes:
1987 Ford Mustang LX Convertible Review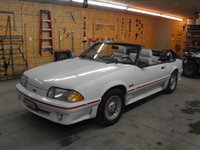 A Great Machine — In the 80's I owned a new 89 GT hatchback. What an awsome car. It was fast handled great, and was a chick magnet. Unfortunatly I was young, and I tore it to pieces. I then purchased a used 87 Gt, also an awsome car. It was stolen by a buddy "Imagine that". Drove off a boat dock in a lake. Where it sat for a week before a boat hit it backing into the dock. Once returned to me I began the work trying to save it. I drained all the fluids let it dry. When all was good I placed a battery in, and beleive it or not she started right up. I drove this car for another 2 years before I finally sold it. The car was still running strong the day they drove it away. I recently purchased a 87 Gt convertible. Thsi car is 100% original with 96,000 original miles. Once again another awsome car. She drives like a new one, and the motor is just as strong as a new one. All I can say about the late 80's mustangs WOW what a machine. May the live forever!!
Primary Use: Sport/fun (spirited driving, track racing, off-roading, etc.)
Larissa

writes:
1987 Ford Mustang LX Review
Pros
RWD, sporty, steering was easier than most cars
Cons
slight rusting, not enough jump to the pedal (spark plugs)
Good First Car — It was a good first car. My dad is a mechanic so he was able to work on it for me when something went wrong. I loved the RWD and still find it easier to drive than FWD. The shocks were going and I could tell it needed new spark plugs. After almost 2 years with it, I had to sell it because my dad moved and the engine kept overheating. I miss it, but I have a more reliable car now.
Cheryl

writes:
1987 Ford Mustang GT Review
Pros
Excellent handling and performance, low maintenance, aerodynamic design, comfortable seating, fiber optic gauges, good fuel economy for its class
Cons
Too low to the ground, required Premium fuel
Most Fun Ride Of My Life! — I drove the GT in Atlanta traffic and never had to worry about merging onto the expressways. That V-8 5.0 engine had more than enough power for any job. I averaged 25 mpg, although much of that was interstate driving. I had the 5 speed transmission, and it was so much fun to drive. I've been pulled over for speeding twice in my life, both times in this Mustang *LOL* I couldn't help it! Like Sammy Hagar, I can't drive 55!
brianfox

writes:
1987 Ford Mustang GT Convertible Review
Pros
Very Fast,Drop top Fun,Looks/Runs like New,Owned since brand new
Cons
Poor Fuel milage,3 season vehicle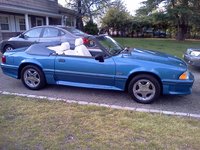 A True American Muscle Car — I bought this vehicle brand new in 1987,I have 23k(original miles),I have many modifications-347ci engine,w/trick flow heads,paxton 8-10 lb supercharger,tko 500(5spd)tranny,4:10 rear,many other mods...approx-473 rwhp..Every suspension mod-upper/lower Control arms,k-member,struts/shocks,exc,exc..This vehicle has been with me for 26 + years,many good memmories..I'm 47 years old,and plan on driving her til I can't drive anymore...
Primary Use: Sport/fun (spirited driving, track racing, off-roading, etc.)
Seth

writes:
1987 Ford Mustang LX Review
Pros
Fast and fun... Great handling. Engine out lasted the rest of the car
Cons
Seating in rear, This vehicle rust in a lot of areas
Great Car Of My Youth — Best car I ever owned. I wish I could find another Mustang with the same qualities. The car was so easy to maintain. Oil changes could be done in 10 minutes or less. Brakes were simple. The mustang was also fantastic on MPG.
Primary Use: Commuting to work
Tom

writes:
1987 Ford Mustang LX Review
Pros
Awesome car, owner since new.
Even

writes:
1987 Ford Mustang GT Review
Pros
look awesome good performance
Cons
bad handling for race its a donuts car haha
Great To Beat — great bang for the buck performance at low price many updrage parts on the market lightweight car so great for the quarter mile time and excellent to do burnouts n donuts really good lookin head turner car and what about the sound my god not to hard on gas mileage for the engine size really fun to drive!! i love my mustang
Primary Use: Sport/fun (spirited driving, track racing, off-roading, etc.)
Displaying 1 - 10 of 41 reviews
Ask CarGurus about the 1987 Ford Mustang
Average response time:
8.5 hours
,
# of Ford Mustang owners:
30,711
Looking for a Used

Mustang

in your area?

CarGurus has

28,463

nationwide Mustang listings starting at

$2,495

.