1987 Ford F-150
User Reviews
Displaying 1 - 10 of 19 1987 Ford F-150 reviews.
Jace

writes:
Pros
power,relyability,comfort,looks,common.
Awsome Truck 2 Own — theres nothing i dont like about my truck bc i like every thing about it but sorry these r the only photos i will add more later but she has a 4.9 liter inline six witha three speed atamatic rear drum front disk brakes mean burnouts limited slip diff with 15 inch tires all around.
Primary Use: Sport/fun (spirited driving, track racing, off-roading, etc.)
Donald

writes:
Pros
its fun for 4wheeling
Im Happy With It Since Its The First Car Ive Owned — everyone in washington knows my truck lol. its awsome lol. but for real its not a bad truck it runs good, its decient on gas so its pretty good truck...and there is a few people that kno its fun
Primary Use: Commuting to work
Chris

writes:
Cons
if you dont have money for gas then stay away
For The Age Of The Truck And The Price I Paid For It I'd Say It Was $700 Well Spent — i love this truck. built like a tank, looks awesome for the age, needs tuning badly because the performance on it kinda blows, cost me $700 to buy but goes through gas like crazy, fun to drive and very comfortable ride. love the bench seats.
Primary Use: Sport/fun (spirited driving, track racing, off-roading, etc.)
Tyler

writes:
Pros
Goes and 4 wheel drive works
Cons
rusted out and i have put about 600 hundred in it and i still cant get i going right
overkill

writes:
1987 Ford F-150 XL Standard Cab 4WD SB
Review
Pros
Truck is for work or play
Cons
Rear fuel tank has a hole in it

Good Older Truck — For the year and stile this truck is spot on. Any one who enjoys the older body stile would enjoy this truck. Im glad to see that the maintenance cost are low and that it has good fuel mileage. I like the color as well.
Primary Use: Utility (towing boats, transporting cargo, etc.)
myplague5

writes:
Cons
Hard to find anyone to help work on it

I Love This Truck! — Straight six 300, T18 4-speed 2wd longbed, need I say more? This is the best vehicle I've ever owned out of about 16. This is the fifth year I've had it. It has over 300 thousand miles and nothing worse that an intermitant miss due to poor upkeep. If i had to make a choice.... I choose my truck
Primary Use: Sport/fun (spirited driving, track racing, off-roading, etc.)
Dan

writes:
Cons
Gas mileage leaves something to be desired
Overall B- For The Vehicle. — The truck is built like a tank, the vehicle itself has great performance, but is lacking in the breaking and handling. The cost of ownership is quite low, I have only needed about 300$ in repairs in the last twelve years I have owned it.
meanoldmoe

writes:
Pros
Heavy duty rear springs made this 1/2 ton more like a 3/4 ton.
Good power from the 5.0L
8ft box with cap on top came in very handy for moving large items
Cost to pick up the vehicle was cheap and parts are still plentiful
Cons
Fuel economy was not the greatest
Rear spring shackles are problematic for rusting on these trucks and a pain to replace ...when rusted out !!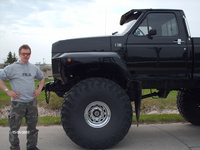 Good Truck For Hauling And Cheap To Repair — This truck was great for hauling big items and heavy items. Traction in snow was excellent...even with it being only 2wd. Front seats had good leg room, but rear seat was a bench type and was suited for smaller people and children. Rear seat could fold up for extra storage. This truck never let me down , but onyl had minor problems with the fuel regulator for the fuel injection...it would fail and the truck would go through huge amounts of fuel and run poorly. This regulator failed about 4 times , during the time I had the truck ( over 360000km) This truck was a great workhorse truck !!
Primary Use: Commuting to work
Robert

writes:
It Is The Best Ever — This Truck is great it is a stick so a little more fuel efficient but hard to master has a goods and overall reasonable ness to it not too old to over care for it but just old enough to be a classic
Primary Use: Sport/fun (spirited driving, track racing, off-roading, etc.)
Displaying 1 - 10 of 19 1987 Ford F-150 reviews.
Looking for a Used
F-150
in your area?
CarGurus has

113,409

nationwide F-150 listings starting at

$1,500

.