1987 Ford F-150
User Reviews
1987 Ford F-150
Review Ratings
Average Ratings from

19

reviews
Performance:
Appearance:
Build Quality:
Overall:
Review Highlights
Click to filter reviews below
Displaying 1 - 10 of 19 1987 Ford F-150 reviews.
christophernew2000

writes:
Cons
fuel mileage was not the best, but you can't ezpect too much from a work truck. 15 mpg is not that bad when you compare some other gas guzzlers

Not Enough Gold In Fort Knox To Buy It From Me!!! — My father bought this truck in 1987 off the dealership lot. Our family has put 278,000 miles on this thing and it is still a great truck. It has been retired for about six years now and it will still start with one turn of the crankshaft. even when it hasn't been started in over three months, it will still start in less than two complest revolutions of the crank. the 300 straight six is the best of Fords' engines as far as reliability and endurance. The truck was wrecked in a severe thunder storm in 1988, and with a little work to the chassis, it was back on the road, and running very well in less than a month.
Primary Use: Commuting to work
Adamn513

writes:
Cons
Paint flakes on top of the truck.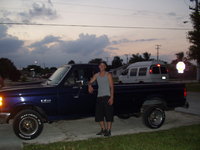 Invested 6,000 In The Truck. Lost My Job Could Use The Money Or Deal A Trade. — V8 351 Windsor, changed from fuel injection to carburated. A.C. power windows. Handles excellent. Accelerates fast. Strong body made of metal not plastic. New brake lines with the lift kit. 9". Fifteen gallon tank so its about forty five dollars to fill it up it has two tanks. 2,000 or less miles. new rebuilt motor and transmission. Truck is very reliable, the shift kit drops, it has plenty torque. Since the replacement for the new motor and trans. been a to and fro work vehicle. Was close to finishing the truck completely, just ran out of money for the tires and paint still working towards it.
Primary Use: Commuting to work
James

writes:
Pros
Power is decent, makes a great weekend, work vehicle.
Cons
Fuel economy, handling, long trip comfort.
1987 F-150 W/5.0 — Decent power, put the truck through some hell and still is going, is very reliable havent had any problems that left me walking, the fuel economy is alright if you baby it, it will get 15 but that is tough to get if you run it hard it'll get about 8-10, can pull more than i expected it to be able to.
Primary Use: Utility (towing boats, transporting cargo, etc.)
myplague5

writes:
Cons
Hard to find anyone to help work on it

I Love This Truck! — Straight six 300, T18 4-speed 2wd longbed, need I say more? This is the best vehicle I've ever owned out of about 16. This is the fifth year I've had it. It has over 300 thousand miles and nothing worse that an intermitant miss due to poor upkeep. If i had to make a choice.... I choose my truck
Primary Use: Sport/fun (spirited driving, track racing, off-roading, etc.)
overkill

writes:
1987 Ford F-150 XL Standard Cab 4WD SB
Review
Pros
Truck is for work or play
Cons
Rear fuel tank has a hole in it

Good Older Truck — For the year and stile this truck is spot on. Any one who enjoys the older body stile would enjoy this truck. Im glad to see that the maintenance cost are low and that it has good fuel mileage. I like the color as well.
Primary Use: Utility (towing boats, transporting cargo, etc.)
meanoldmoe

writes:
Pros
Heavy duty rear springs made this 1/2 ton more like a 3/4 ton.
Good power from the 5.0L
8ft box with cap on top came in very handy for moving large items
Cost to pick up the vehicle was cheap and parts are still plentiful
Cons
Fuel economy was not the greatest
Rear spring shackles are problematic for rusting on these trucks and a pain to replace ...when rusted out !!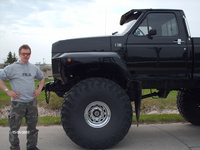 Good Truck For Hauling And Cheap To Repair — This truck was great for hauling big items and heavy items. Traction in snow was excellent...even with it being only 2wd. Front seats had good leg room, but rear seat was a bench type and was suited for smaller people and children. Rear seat could fold up for extra storage. This truck never let me down , but onyl had minor problems with the fuel regulator for the fuel injection...it would fail and the truck would go through huge amounts of fuel and run poorly. This regulator failed about 4 times , during the time I had the truck ( over 360000km) This truck was a great workhorse truck !!
Primary Use: Commuting to work
Robert

writes:
It Is The Best Ever — This Truck is great it is a stick so a little more fuel efficient but hard to master has a goods and overall reasonable ness to it not too old to over care for it but just old enough to be a classic
Primary Use: Sport/fun (spirited driving, track racing, off-roading, etc.)
Chris

writes:
Cons
if you dont have money for gas then stay away
For The Age Of The Truck And The Price I Paid For It I'd Say It Was $700 Well Spent — i love this truck. built like a tank, looks awesome for the age, needs tuning badly because the performance on it kinda blows, cost me $700 to buy but goes through gas like crazy, fun to drive and very comfortable ride. love the bench seats.
Primary Use: Sport/fun (spirited driving, track racing, off-roading, etc.)
Chestly

writes:
Displaying 1 - 10 of 19 1987 Ford F-150 reviews.
Looking for a Used
F-150
in your area?
CarGurus has

102,113

nationwide F-150 listings starting at

$1,250

.