1986 Toyota Pickup
User Reviews
Average Ratings from

15

reviews
Performance:
Appearance:
Build Quality:
Overall:
Review Highlights
Click to filter reviews below
Displaying 1 - 10 of 15 1986 Toyota Pickup reviews.
oysterman76

writes:
1986 Toyota Pickup
Review
Pros
Great little truck. Low miles
Cons
Needs some body work.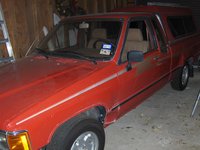 Rick

writes:
1986 Toyota Pickup
Review
Cons
small only three people fit and can fit a big ass box for speekers
Its Good A Truck Good Off Road Even Though It 2 Wheel Drive — the engine responds good has good breaks it good off road because its light it gas very thin metal i need to fix my trans It looks good now IV fixed it my self and got rims for it don't remember how much its was but its been though my family for quiet some time good for off road drift
Primary Use: Commuting to work
Henry

writes:
1986 Toyota Pickup
Review
Pros
Very Reliable, Will last a long time with no high costs.
The Best 1980's Car I Had Ever Owned. — Purchased Vehicle back in 1986 brand new in Atlanta because I needed a small work vehicle with A/C. There was never anything wrong with it, Not one major repair. A very reliable vehicle inside and out. Vehicle was quite fun to drive. drove it for seventeen years with over 200,000 miles on the ODO. Sometimes I might see it driving down the street.
Primary Use: Commuting to work
David

writes:
1986 Toyota Pickup
Review
Pros
Its good on gas it has the power to do anything
preston8806

writes:
1986 Toyota Pickup
Review
Pros
best truck ever made

Jonathan

writes:
1986 Toyota Pickup
Review
Amazing Pickup Hauls Anything — It's an amazingly reliable truck. no matter what the circumstances or whts wrong it always seems to make it home. ie hauled world changing loads with this ehicle. It goes absolutely ANYWHERE ie neer managed to get this truck stuck almost rolled it a couple times but that's cuz the stock ride height is tall as hell!
Primary Use: Utility (towing boats, transporting cargo, etc.)
Bram

writes:
1986 Toyota Pickup
Review
Pros
Great truck all around!
Cons
You cant have anything in this town, old people are abundant here and they dont get in car accidents, they cause them.
1986 Toyota 2wd — To those who like these little trucks and know their worth, this will make you smile. My first Toyota Pickup was an 86 2WD. The guy that I got it from owned it since new, put 214K on it and when I picked it up, it had sat for about a year and a half due to a small puncture in the fuel tank. The truck was in rough shape but it was still decent enough for me at the time. The man gave me the truck for free and I paid the title transfer costs (65 dollars). It took me five minuts to get it running again, drove it home. As i worked and saved money, I put a new timing chain, clutch, brakes all the way around (still had the original rotors, still does), serviced the tranny and rear axle, put a set of Uniroyal Tigerpaws on it, then painted it for my high school senior project (made a 96 on it). In the midst of all this, my friend blew the engine in his 85 4WD, bought a parts truck for the engine. I later convinced him to let me have the chrome bumper for free. It didn't mount right because it was an 87 front bumper and my truck had a different style (with the black plastic guards on the side). I put it in the local classified adds, sold it a few days later for 50 dollars, then turned around and bought my friend parts truck for what i made off its front bumper, took it home, robbed the whole interior out of it (it was grey, mine was blue) and swapped it all in my truck. Over all I put about 1800 dollars in the little truck. Six months after i painted it back to its original Toyota Medium Blue (the most popular color for that truck during those years) I got rear ended while I was on my luch break. The truck was in very nice shape and the paint job wasn't very bad for a first timer. The insurance adjuster totalled it and gave me 1900 dollars and I kept it. Then sold it to my uncle who lives about a half hour away. The little thing just keeps going! I later scrapped my 50 dollar parts truck for 106 dollars. So I made money off the little blue truck that took me through my highschool days. It was a shame to see it go, but at least it's still in the family and I can go drive it around whenever I want to. The truck ran, and still doews run like a top, averages about 28 miles to the gallon and has a 22R and a 4 speed. It could keep up with fox body mustangs, other trucks of its type (smoked a Nissan Hardbody) and was very peppy fot the amount of miles it had. Would I go back and try to buy it back from my uncle? Probably not, I have too many toyotas to choose from in my driveway as it is. But if ever there is a testiment to a vehicle for its over all fun factor and well build quality, my vote is on those old trucks. Absolutly bullit proof!!!
Primary Use: Sport/fun (spirited driving, track racing, off-roading, etc.)
Derek

writes:
1986 Toyota Pickup
Review
Pros
Reliability, It has a turbo light!, Its pretty damn tough lookin too
Cons
Needs more power, and more legroom.
The Yota Boat — I have pretty much a one of a kind truck, its a Standard Cab SR5 Turbo. Which according to the options list, doesn't exist :). It may be turbocharged but its still pretty pokey, livable but pokey. However its utterly bulletproof, I have already hydrolocked it crossing a river, bottomed it out more times then I can count and many other abuses and it hasnt suffered a bit. I am utterly shocked at how well this was built and I am very glad I went with it!
Primary Use: Commuting to work
Joseph

writes:
1986 Toyota Pickup
Review
Cons
no power steering or a/c
DoctorPissoff

writes:
1986 Toyota Pickup
Review

This Truck Is Unbelievable — ORIGINAL OWNER This truck is amazing. I won't trade it in CASH FOR CLUNKERS.I purchased my 22R 4-RUNNER new in November 1986 for $5900. It has 93,0000 miles. Has cost a total of $2850 for repairs over 23 years (front calipers had to be replaced twice in 23 years) but all other parts are original, except the battery. Orig. carb,distributor, coil, I haven't had to replace anything except tires, front calipers and tires, and brakes. I had it in Upstate Vermont for 2 years in 1986-88and rode around with chains for 2 soild winters. It would take Godzilla to set on this truck to damage it. Even the rust turns harder than the original metal, for some odd reason(except the tailgate). It gets 24/28mpg and lays wheels all thru first and second gears , and "Chirps" going in third.
Primary Use: Sport/fun (spirited driving, track racing, off-roading, etc.)
Displaying 1 - 10 of 15 1986 Toyota Pickup reviews.
Looking for a Used
Pickup
in your area?
CarGurus has
124
nationwide Pickup listings starting at
$1,999
.