1986 Nissan 300ZX
User Reviews
Average Ratings from

32

reviews
Performance:
Appearance:
Build Quality:
Overall:
Review Highlights
Click to filter reviews below
Displaying 1 - 10 of 32 1986 Nissan 300ZX reviews.
Rachel

writes:
Pros
nice engine, turboed, good condition, fun ride, T-tops, fast, only has about 60,000 MI
Good Car — Loveeeee this car. (: It`s old BUT it`s in pretty good condition for being an `86. Pretty much is a muscle car. I like the sound of the engine. It has a nice grumble noise. Only issue is that the brake light wont go off..but hopefully it will get fixed soon. Oh and its turboed (: downside..only a two seaterrr. It also has T-tops.
Chad

writes:
Pros
reliable, good fuel economy, quick
Cons
cost of repair, limited amount of knowledgable technicians to fix it.
The White Knight — I bought this car cheap from a neighbor with 135k miles. The drivetrain was bulletproof and never left me stranded. I hated the whole 2 seater thing, that got old. It got pretty good gas mileage and was decently quick. It got rear ended when it had 175k miles. And the original A/C worked even then. Nissan builds great cars but I wouldn't buy another 300ZX because they are a royal pain in the ass to repair or maintian, costly as well.
Spencer

writes:
Pros
Fun and easy to work on compared to most other cars, fun to drive, looks awesome
Cons
Requires more maintenance than your average car and some TLC
Awesome Car For Not A Lot Of Money — Performance: So much can be done to these cars is sick! Great for beginners looking to learn how to work on cars. Plenty of car for new drivers and those looking to get their feet wet on track days and other events while keeping things inexpensive. Build quality: These cars are made to be worked on. That being said, it will likely get expensive always having someone else work on it for you. As long as general maintenance is kept up, there really aren't any major problems. Appearance: Finding one in excellent condition is difficult (more than a 20 year old car!) but the styling is very sporty, and it comes with a nice interior. Cost to Own: You can expect ~18 MPG in town and 23-25ish on the highway, not great but not really that terrible either. Parts are not too expensive and nothing major (generally speaking) goes wrong as long as simple routine maintenance is completed in a timely manner. You can pick one up anywhere between about $1500~ $3000. No more than 3k if it's stock usually. Fun Factor: An absolute BLAST to drive! For a production model car, this thing rocks. Buying, or engine swapping one to turbo (NA2T) is an excellent choice for getting the most "Bang for your buck" as this takes it to a little over 200hp. This is still not a high number by any means, but it still feels good when roll into the throttle and hear the turbo hiss as you tear down the highway.
Nate

writes:
Pros
trailer trash. hedious, loud, fast, fun to drive, t-tops for the mullet club, 257,000 miles and still runs. hit a deer at 80mph and still runs. and what a beauty she is.
Cons
car over heats, draws cops near, lost licens driving car due to "loud engine roar of speeding car". car drives like a boat, weighs a crap ton and has little crappy breaks for the car. nothing works the way it should. with all this being said, the best $800 i ever spent.
mover

writes: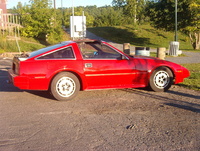 Yeahaa — not much to say,.. lots of fun to drive, a real headturner, pure summer fun with the t-roof. i use it only summertimes and store it for the winter. mine is 100% original except a nissan sportsuspension. corners like bolted on the street
Primary Use: Sport/fun (spirited driving, track racing, off-roading, etc.)
lilgus05

writes:
1986 Nissan 300ZX 2 Dr Turbo
Review
Pros
We have fun and it drives fast. Originally got the car very cheap but now what Ive put into it Im keeping it that's for sure.
Cons
Too many electrical problems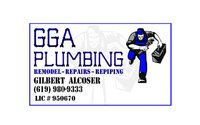 Clean — Fun car to drive. Have had a lot of electrical problems with it lately. ever since the security light has had a steady light flashing. Other than that just fixing it up so its more enjoyable to drive. I have 5 vehicles and this one is staying the other 3 im selling.
Primary Use: Sport/fun (spirited driving, track racing, off-roading, etc.)
tommcmanis

writes:
1986 Nissan 300ZX 2 Dr Turbo
Review
Pros
Fun to drive,lots of power long legged gears,and great milage,my 2000 neon 4cyl cost more in fuel than my 3.0 v6
Cons
Old,hard to find parts,digital display,lots of old brittle plastic,silly relay locations and control boxes automatic heat and conditioner that seem to always be broken some service proceedures require a phd in rocket science.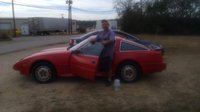 Great Syling,fuel Milage Is Good,,(depending How Heavy Your Foot Is) — The color,the color,the color, red boo hiss! Likes t tops good visibility allaround the std trans makes this turbo very fun to drive as i smoke mustangs,most v8s and the occasional tuner potatohead. Not to many minuses, other than standard mechanical issues not alot of shop or down time unless you buy a ground into ground z. I found this car broken and neglected, I drove it for 6months and sold it :( the person I sold it to abused it and was resold three times I have the opportunity to buy it back, once my girls back in the driveway she won't be leaving again
Primary Use: Sport/fun (spirited driving, track racing, off-roading, etc.)
Darlinter

writes:
1986 Nissan 300ZX 2 Dr 2+2
Review
Pros
Car as far as power goes, my engine is performance built and looks awesome really turns heads she's definitely one of a kind in my eyes. I didn't pay to much for her and I've built a bond with my Z that most ppl would kill for
My Z — No real room for my kids but then again she's a sport car not a sedan right lol but because of former owners she's got a ton of rust, was a tn car, and I've had to tear her apart and fix all of it
Primary Use: Sport/fun (spirited driving, track racing, off-roading, etc.)
Steve

writes:
1986 Nissan 300ZX 2 Dr STD
Review
Pros
Lots of power,decent looks,plenty of cargo space, cofortable front seats,pw,pdl,t tops, quiet interior, power heated mirrors,lumbar controls,great sound system,good stopping power,alloy,wheels steering is good,interior styling is good controls well placed.
Cons
Lots of plastic,fragile hard to find plastic, digital insturments which require a power supply that poops out @163,000 miles and requires this hard to find part,too many relays solid state electronics,inappropriate component placement that requires dash removal and for two components heater removal,things that are expensive are made cheAP and cheap stuff is expensisve or labor intensive.
Nice Layout,sylish Looks,power To Spare. — Hard to find parts. Overview a must drive for non z owners a turn of the key and smell of burned fuel,and a clutch drop as this machine winds through first gear,as you are pushed in deep in the seat,and second is a throw away, and you ask yourself this is a import? Note: I smash on mustangs and tuners w this base model car, turbo is yet unexplored territory.................. Zcon next year.......... Fingers crossed. :-D
Primary Use: Sport/fun (spirited driving, track racing, off-roading, etc.)
Derrick

writes:
Cons
Its fun, but its small. although its beyond its time, some of the more basic aspects of the car are out of date (suspension and gear box)
Fun Little Weekend And Good Weather Drivers Car. — Fantasticly fun to own and drive. Its old but it wont show it. After 25 years of service its still so much fun to zip around in. T-Tops off shifting through the gears with the faint sound of the turbo spooling up. Its not too fast but its quick enough to have fun in. Most other cars with massive power need to be driven with a much higher since of responsibility. The active dampening of the suspension is well ahead of its time and fun to mess with. It has SO many advanced features that are beyond it's time.
Primary Use: Sport/fun (spirited driving, track racing, off-roading, etc.)
Displaying 1 - 10 of 32 1986 Nissan 300ZX reviews.
Looking for a Used
300ZX
in your area?
CarGurus has
118
nationwide 300ZX listings starting at
$2,500
.