1986 Honda Accord
User Reviews
1986 Honda Accord
Review Ratings
Average Ratings from

22

reviews
Performance:
Appearance:
Build Quality:
Overall:
Review Highlights
Click to filter reviews below
Displaying 1 - 10 of 22 1986 Honda Accord reviews.
Jordan

writes:
1986 Honda Accord LX Hatchback
Review
knorwood8709

writes:
1986 Honda Accord DX
Review
Pros
Great gas mileage, handling, comfort, easy maintance and reliability.
Cons
Hard to find a mechanic.

I Absolutely Love This Car. I'd Rather Drive My '86 Honda Than My Girlfriends '03 Jeep! — My 86' Accord has a touch over 70k miles and I couldnt ask for a better car. It may not be a BMW but I'll put money on it that it'll last longer! Need I mention that I can still pull 125+ MPH in a stock '86 Accord...
Primary Use: Commuting to work
Brandon

writes:
1986 Honda Accord LX Hatchback
Review
Pros
The best investment iv ever made...
Cons
Dent, trim peeling off, little bit of rust, low idle
1986 Honda Accord Lxi Hatchback — LIKES- 22 mpg in the city, 28 on the highway. good gas mileage, has the "FLIP" headlights, zippy acceleration, spacious interior, fog lights, sporty hatchback body style, very accurate power steering and brakes, engine is in great condition; for an old car, very dependable, runs like it could go another 100,000 miles DISLIKES- has a dent on the right passenger door (I WAS IN MY FIRST ACCIDENT ONE DAY AFTER I BOUGHT MY FIRST CAR. SEEMS LIKE AN OMEN... RIGHT?). the trim above the back left wheel well is peeling off, a little bit of paint rush. sometimes when my car idles, it feels like it might stall out. all these things just come of age obviously... i would still recommend this car to any teens or adults. i personally like the sporty, 80's classic Hondas. Price- $1,600
wcrider62

writes:
1986 Honda Accord LX
Review
Pros
well I've owned over 400 cars and trucks and this is my first honda.And I am absolutly amased by this little car.I know what the specs say but I'm getting on aveage 39-40 miles to the gallon. I put in 11 gallons of sheveron priemium and went 400 miles before refueling. and that not just hightway. thats city--spokane wa,.. thats highway and thats back road up in the hills dirt road gettin it. im 51 years old but hey i been a road runner all my life and this car still amases me again and a gin. Im not easy on my cars.ive tested it in the snow ,put a couple vids on f.b. i draged a 3/4 ton chev off a mountain it snow ,ive pulled station wagon on its side to scrap partw cuz my friends truck was down i've been in mud and just cant seem to get this car stuck, ofcorse im not cheep on tires. .my machanic says change the timing belt every 60,000 miles ans it will run over 500,000 miles easy.it had 142,000 when i bought it ,in 3 1/2 month i now have 157,000 miles and it runs better than the day i bought itinthe snow its is just plain awsome ive never been so imprest by a litle car before .with the last name of Dodge its alot for me to have this high of regard for a imports..honda , my hats off to you ,well done
Cons
im kind of a big guy,alright I'm big,lol and its just a bit dificult to get in and out of but once in she fits like a nice glove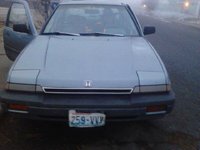 Fanominal, Outstanding,flat Out Imprest — this car can take punishment. Im not nown for being easy on my cars and i havent been on this one ,and the responce i get from it is , give me more,.. Ive been in mud and cant belive i didnt get stuck . i've gone up on a mountain to text in deep snow .8 to 10 inches uncut snow and i went right to the top never came out of second and this wasnt no simlpe road, like i said im known for torchering my cars and this one jusy wants more and stays looking nice while at it i rate it a 10
Primary Use: Sport/fun (spirited driving, track racing, off-roading, etc.)
Charrliered

writes:
1986 Honda Accord DX Hatchback
Review
Pros
cheap, quick, fun, Great fuel economy, Compact but spacious, Lasts forever
Cons
carburetor, lacks power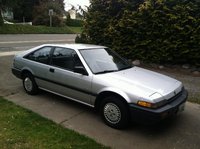 Awesome Commuter, Looker, And Over All Value. Plus She'll Run Forever. — I've got a Dx Hatchback, with 97xxx miles, yep, thats right. She has been reliable, well cared for, as long as you do the oil changes frequently. AND I can work on her with ease! and I'm a girl who knows nothing of cars! I have myself a Carsons repair manual and Ive been able to figure it out so far. I highly recommend this car, for anyone wanting great gas mileage and dependability... if your willing to spend, like 30 minutes a week making sure all the fluids are good and nothings leaking... yet. If you can, I would recommend never getting a carburated vehicle, always always go for fuel injected! not many mechanics I go to work on carburated cars! and of course with older cars problems arise, but with age means more parts at junk yards for cheaper, cheaper parts in general, and everyone knows how to work on them... for the most part you can figure it out!
Primary Use: Commuting to work
robbieyh

writes:
1986 Honda Accord DX Hatchback
Review
Pros
fun to drive, easy to maintain, kicks butt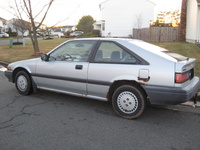 Inexpensive Transportation, Character After All These Years, Yup Its Still Rolling, Look At It — Great car, superior Japanese reliabilty, awesome hatchback, fun to drive, zippy engine, and good gas mileage. Rolling on 13" wheels and there's a lot of rust due to northeast weather. Many of my parts will be purchased at a local salvage yard. It's old and what more can you ask from it. The car does not ask anything from me. It just goes where I want it to go. Thank you Honda
Primary Use: Sport/fun (spirited driving, track racing, off-roading, etc.)
Farjeel

writes:
1986 Honda Accord Lxi
Review
Cons
expensive maintenance
Fast.. Fun. — scores good in all sections.. performance 9/10, brking 9/10 handling 10/10. built quality 8/10... interior 8/10... exterior 8/10.. milage good... fun to drive .. but high on maintenance.no squeakes or rattles.. stil after 16 yrs
Primary Use: Family transportation
Jesse

writes:
1986 Honda Accord LX
Review
Honda — good quality car. What can you really say about a honda? they last forever, have decent power in smaller engines and the mile per gallon is amazing. This car can do it all. if you ever need to be sold.. remember honda
Primary Use: Commuting to work
KC76

writes:
Pros
if you ever drove one you know there is just so much one could say here.
Cons
I don't have a photo of my bucket to post.

What Can I Say? — I have a 1986 accord hatchback. bought it for $924.00 Can on a car lot taxes and all. It needs a muffler. I drive a car with 350,000km on it and it burns no oil. goes like a bat out of hell and sounds great doing it. I would buy another if I could find one but they are very rare here. It's built like a tank and has handling that makes many newer cars look like a joke. it's stock. I won my last three races based on the little bit of power and the insane handling. passengers rave about how ere it corners even on ice and how easy I can throw it around. I can't say enough about it. the only stock car I ever liked better for handling is my Rx7, but the savings in gas with my accord s make it the better car hands down.
Gregory

writes:
1986 Honda Accord LX
Review
Pros
Honda reliability. Need I say more?
Cons
Carb engine. No aftermarket engine upgrades.
My Baby!!! — My first real investment in a car. Paid $3000 for it in 1995. Kept it until 1999 when I sold it and moved back to Barbados. Sold it to a friend who had it impounded. Damn shame. Treated her better than i treated my g/f and she took care of me. Never left me stranded. 2 1/4 cat-back exhaust w/ Flowmaster muffler used to rattle windows and set off car alarms in Kings Plaza parking garage.
Displaying 1 - 10 of 22 1986 Honda Accord reviews.
Looking for a Used
Accord
in your area?
CarGurus has

60,327

nationwide Accord listings starting at

$1,299

.