1986 Ford F-150
User Reviews
Average Ratings from

42

reviews
Performance:
Appearance:
Build Quality:
Overall:
Review Highlights
Click to filter reviews below
Displaying 1 - 10 of 42 1986 Ford F-150 reviews.
Christian

writes:
1986 Ford F-150 XLT Extended Cab LB
Review
Pros
Strong,reliable,Beefy engine, for the year looks great, Most parts like fuel pumps/water pumps are on the cheap side.
Cons
Heavy,Fuel eco, Not my choice in mudding with 2wheel.
Great Truck, First One, And Im A Chevy Fan. — This truck is my first truck and the owner before neglect it to hell and only used it for towing his boat around. I payed 400$ for it and put in 200~350 into it so far. None of it major work just fluids,hoses,belts. Only thing went out on it when i bought it was the fuel tank selector couldnt find one for the life of me. Check LMCtruck they have it but want 200$+ for the part so i just bypassed the rear fuel tank to just be ran to the engine. Sucks alot of gas with a 5.8l in it but honestly in aint much differnt then my jeep with a 4.0 lol. Love the bed of it, i scrap alot and need that kind of space. Not sure if this is stock but the rear suspension has helper springs and coil springs(So can put alot of weight in the back without a prob, even the engine can hold up lol) Has a little bit of a lifter/rocker noise in the engine but it has 250k on the engine so i aint complaining. Love the truck, would only trade it for equal pros and better gas mileage lol. P.s. Little bit of rust (:
Primary Use: Utility (towing boats, transporting cargo, etc.)
Cam

writes:
Love It — Mustang 302 Swap out of a 93 Mustang Cobra, Crap gas but lots of power. Beefed up stereo, 33" tires. Viper alarm with all the bells and whistles. Love to see the little hondas in the rear-view mirror. Especially kids with daddies car
Primary Use: Sport/fun (spirited driving, track racing, off-roading, etc.)
Chris

writes:
Its A Good Old Truck — Performance: acceleration sucks, brakes suck,handling sucks but hey its a old truck.. Build quality: never breaks down and just keeps ticking Appearance: love it Cost: cheap truck to fix but gas milage and prices kill you Fun Factor: yes this truck is a load of fun
Primary Use: Sport/fun (spirited driving, track racing, off-roading, etc.)
Daymon

writes:
The Good, The Bad, And The Ugly Sides Of The 1986 Ford F-150 — good truck, needs work from time to time, but with any old truck or car, time and money keeps it going. i would recommend it to anyone who is looking for a good project and has a good bit of time on their hands
Primary Use: Commuting to work
jwalker1992

writes:

Buy One If U Can It Has Never Let Me Down And If You Can Get It For $300 Like Me You Better Buy It.. — very strong truck i have been stuck in the mud water coming in the door everything you can think of it drinks gas but not as bad as a carb no mecanical problems just things like plugs and battery are all i have put in it love the truck will never forget her..
Primary Use: Utility (towing boats, transporting cargo, etc.)
lctenorsax

writes:
Pros
drives great, handles good, perfect truck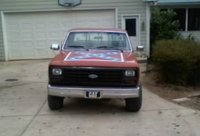 My First Truck And The Last One I'll Ever Sellr — This is first truck i got and the last one i'll ever sell. they are nearly indestructible and 3rd gear is hard to find and its fun to laugh at new drivers! maintenance is easy but its an old truck.
Primary Use: Commuting to work
Jordan

writes:
Pros
Whats awesome about my truck is that its is a special Texas Edition that there were only a few made, long lasting/
Cons
Fords always have problem
Mostly Good — Once i get eveything fixed this truck is gonna be runnin for a long time cuz its a tough built truck, even tho its a ford i love it. Ive put alot of repairs into it cuz the previous owner didnt take care of it or maintain it. The interior is in pretty good condition, the outside just needs a fresh coat of paint, and now some body repair cuz it got hit 2 days ago :( it dont get to good gas mileage but the maintenence is pretty easy. And it is a very fun truck to dirve cuz its smooth and tall.
Primary Use: Family transportation
Mike

writes:
Best Truck Ever — best dam truck i have ever had was a tank that hauled ass. not bad gas mileage. ran great built great cause its a ford and built ford tuff. was a awsome truck to drive even more funn with the gass pedal slamed to to the floor
Primary Use: Utility (towing boats, transporting cargo, etc.)
Tyler

writes:
Pros
good dependable truck
A Good Old Truck — I owned it recently so it handled like you would expect an old truck would, it needed some repairs but considering it was over 20 years old it was expected, 80's styling was not especially good for any vehicle but it's 4x4 short bed look helped. it was a 4 spd 300ci inline 6 and it got about 12 mpg. the 4 spd made it fun but the i6 isnt exactly the fastest engine
Michael

writes:
Itll Get R Done — i like that it hauls when i need it to and i have been able to build certain accessories to it like racks on it new speaker system and radio. i also like how it handles in the snow especially when its icy
Primary Use: Utility (towing boats, transporting cargo, etc.)
Displaying 1 - 10 of 42 1986 Ford F-150 reviews.
Looking for a Used
F-150
in your area?
CarGurus has
101,705
nationwide F-150 listings starting at
$1,499
.