1986 Ford F-150
User Reviews
Average Ratings from

42

reviews
Performance:
Appearance:
Build Quality:
Overall:
Review Highlights
Click to filter reviews below
Displaying 1 - 10 of 42 1986 Ford F-150 reviews.
Travis

writes:
I Hated It — I really did not like this truck. it was slow and the old inline six did not give it much power. It really could not haul anything. Body was rusted all out and it was losing ground fast. Although it was free.
Primary Use: Utility (towing boats, transporting cargo, etc.)
Joe

writes:
Pros
Extremly useful. The long bed will let a full sheet of plywood lay flat with the tail gate shut. Tool box holds all the tools you need. Starts when ready to work.People get out of your way. No one asks to borrow it.
Cons
Very slow. Very ugly. Steering column busted looks like you stole it. No radio. No speakers. Dash all busted up. Right turn signal doesn't work. Can you help me move? then not even offered gas money.
Xavier_Creed

writes:
Pros
Strong, durable, low-end torque, hard to kill.
Cons
Mileage not great, prone to rust, hard to find parts.

Great Work/fun Loving Truck, Durable, Never Lets You Down. — 1986 F150, inline six, 3 speed, 2WD. Tough as nails truck, flexible, hard working, fun to drive. Body starts to rust in all the typical Ford places, does ride like a grain truck when it gets really cold, but always starts even at -50c. Didn't really expect sports car speed, especially with the inline, but it can move, tons of low-end torque. Mileage is 4.8 km/L (14.6 mpg for the Americans), not bad for 280,372km truck. Durable as hell, been hit six times and its still rolling strait, can't say the same for the cars that hit me. lol Love the look of it, like a Panzer tank on wheels. Recommend it highly.
Primary Use: Sport/fun (spirited driving, track racing, off-roading, etc.)
smatthew1

writes:
Pros
it's fast, Ilove it's curves
Cons
i dont like the fact that somebody cut the wires and icant figure out how to put them back together

I Love My New-old Truck — its a great truck its quick and beautiful I love the stance of the truck, it just looks mean and ready to go i never thought a 302 could have so much power
Owner for 0 years, 1 months
Miles Driven per Year:200
Daymon

writes:
The Good, The Bad, And The Ugly Sides Of The 1986 Ford F-150 — good truck, needs work from time to time, but with any old truck or car, time and money keeps it going. i would recommend it to anyone who is looking for a good project and has a good bit of time on their hands
Primary Use: Commuting to work
Jordan

writes:
Pros
Whats awesome about my truck is that its is a special Texas Edition that there were only a few made, long lasting/
Cons
Fords always have problem
Mostly Good — Once i get eveything fixed this truck is gonna be runnin for a long time cuz its a tough built truck, even tho its a ford i love it. Ive put alot of repairs into it cuz the previous owner didnt take care of it or maintain it. The interior is in pretty good condition, the outside just needs a fresh coat of paint, and now some body repair cuz it got hit 2 days ago :( it dont get to good gas mileage but the maintenence is pretty easy. And it is a very fun truck to dirve cuz its smooth and tall.
Primary Use: Family transportation
jwalker1992

writes:

Buy One If U Can It Has Never Let Me Down And If You Can Get It For $300 Like Me You Better Buy It.. — very strong truck i have been stuck in the mud water coming in the door everything you can think of it drinks gas but not as bad as a carb no mecanical problems just things like plugs and battery are all i have put in it love the truck will never forget her..
Primary Use: Utility (towing boats, transporting cargo, etc.)
Steve

writes:
Pros
Great 4 wheel drive, lots of power, durable, great ride
Cons
Horrible gas mileage, the clutch goes out more than I would like it to
Great Vehicle For Off Roading Or Hauling — It came with an Inline 6 and I didnt care for the inline with a 3 speed so I swapped the engine to a 302 and put dual exhaust with new headers on it. It gets to highway speed REALLY easy and 4 wheel drive is awesome. The bad side is that it is a 3 speed so it has bad gas mileage on it. Its a single cab with a long bed and a vinal cover on the bed. I also put in an aftermarket stereo with speakers in it and its louder than those gangsters with the subs and bass tubes....trust me. The grill guard can also take a beating. It has pulled cars out of mud and ditches and also has pulled me out of a ditch by it. It doesn't have a lift but has plenty of ground clearence for off roading through tough terrain amd also I have ut 34 inch tires on it.
Xtina

writes:
Pros
Fun, reliable, tough
Cons
Oxidized paint on roof, iffy passenger side manuaal window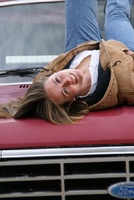 Fun Truck — Even though 23ish years have robbed it of some horsepower, this is the best truck I've ever driven. I've got an f-250 turbo-diesel but the handling is terrible, turning radius is bad beyond description. Driven some later model Chevys and Fords, but nothing can hold a candle to this truck. The interior looks a bit rough- the red dash is no longer exactly vibrant- and the carpet definitely had to be redone, but it's a work truck and looks pretty fine doing that work. Has hauled lots of trees, dirt, feed and hay and is always game, even if the load is a bit over it's half-ton capacity. We rebuilt the transmision (manual) a year ago and it drives real nice. Had to replace the interior fuel pump (figured that out after the tenth time the engine shut off while going round a corner). Only faults I've found it the AC block is massive so it sucks horsepower and MPGs like a tornado in a trailer park, and it doesn't drive ice well, even with tactful handling. Awesome truck to drive...handles country roads and city roads and a little off roading in between... and you should see all the boys' faces when they see the girl driving it :)
Christian

writes:
1986 Ford F-150 XLT Extended Cab LB
Review
Pros
Strong,reliable,Beefy engine, for the year looks great, Most parts like fuel pumps/water pumps are on the cheap side.
Cons
Heavy,Fuel eco, Not my choice in mudding with 2wheel.
Great Truck, First One, And Im A Chevy Fan. — This truck is my first truck and the owner before neglect it to hell and only used it for towing his boat around. I payed 400$ for it and put in 200~350 into it so far. None of it major work just fluids,hoses,belts. Only thing went out on it when i bought it was the fuel tank selector couldnt find one for the life of me. Check LMCtruck they have it but want 200$+ for the part so i just bypassed the rear fuel tank to just be ran to the engine. Sucks alot of gas with a 5.8l in it but honestly in aint much differnt then my jeep with a 4.0 lol. Love the bed of it, i scrap alot and need that kind of space. Not sure if this is stock but the rear suspension has helper springs and coil springs(So can put alot of weight in the back without a prob, even the engine can hold up lol) Has a little bit of a lifter/rocker noise in the engine but it has 250k on the engine so i aint complaining. Love the truck, would only trade it for equal pros and better gas mileage lol. P.s. Little bit of rust (:
Primary Use: Utility (towing boats, transporting cargo, etc.)
Displaying 1 - 10 of 42 1986 Ford F-150 reviews.
Looking for a Used
F-150
in your area?
CarGurus has
98,280
nationwide F-150 listings starting at
$1,500
.