1985 BMW 3 Series
User Reviews
1985 BMW 3 Series Review Ratings
Average Ratings
from 15 reviews
Performance:
Appearance:
Build Quality:
Overall:
Review Highlights
Click to filter reviews below
Displaying 1 - 10 of 15 reviews
Blooms

writes:
1985 BMW 3 Series 325e Review
Pros
Ultimate Driving Machine!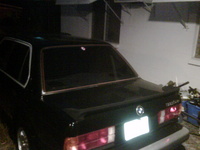 1985 325e — I bought it from a neighbor whose husband passed away in 1998 and the car sat for 10 years. The body is cherry and the engine is great. Excellent acceleration, even for an e-class. Engine is quiet. It handles better than my friends Porsche 911 and is almost as quick. I have to thank the good people at BMW for creating The Ultimte Driving Machine. I will never drive anything but BMW's ever again.
Najib

writes:
1985 BMW 3 Series 325i Review
N/a — this bmw 325i has 170 hp 220Nm torque that is for power and for safety , it contains standard safety.low cost of ownership, good looks interior and exterior, and as 6 cylinder engine this bmw has power and it is funny to drive
Primary Use: Commuting to work
1248ax

writes:
1985 BMW 3 Series 325e Coupe Review
Pros
It's a fun ride, very reliable, good fuel economy, and even though i am working on it still it looks great.
Cons
the ondly bad thing is that it does not have much space and the electrical repair costs are pricey.

1985 Bmw 325e — It's a cool ride to have, very reliable (even though it's an '85), good fuel economy, good power, and it has a cool sport/classy look. The only bad thing about it is its space, its a bit limited but can be worked with. Also, right now that I am working on the electrical wiring its a bit pricey.
Primary Use: Sport/fun (spirited driving, track racing, off-roading, etc.)
Dane

writes:
1985 BMW 3 Series 325e Review
Cons
Passenger window doesn't work. Battery sucks.
Sweet Sports-luxury Sedan. — I drive an 85 so its a little worn down, therefore its not as responsive as modern cars. I got it for pretty cheap from my uncle, and the insurance is pretty cheap. Its pretty much a chick magnet. I love it.
Primary Use: Family transportation
Zack

writes:
1985 BMW 3 Series 325e Review
Pros
Fun to drive, very reliable, parts easy to find, easy to work on
Cons
Constantly needed work, parts a little expensive, corrosion issues, terrible in winter
Spent More Time Working On It Then Driving It, And I Can't Wait Until I Get Another! — Picked up a 1985 325e at a Goodwill lot for $500. It sat in a garage or barn for a number of years. Rodents were storing nuts in the engine! All it needed were brakes and tires, and I was on the road. What a blast! Straight 6, super long pistons meant super low idle, sounded like a desiel. easy as pie to work on. Drove it for a few years, then the real repairs started. Brakes, throttle, clutch, electronics, fuel system. Sold it with 199,995 miles on it, couldn't get the last 5 five out of it. Guy I sold it to junked it:'(
Primary Use: Commuting to work
shangxxx

writes:
1985 BMW 3 Series 325e Review
Pros
Nice looking runs great great handeling good on fuel body seems to hold up good for a car this old.
Cons
Brakes could be better,to many warning lights they have them on everything it seem,s.Seats are real bad for comfort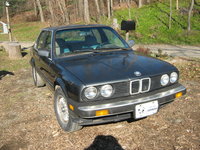 Well For The Price Love It — Hey for the money great car cheap to run and handels the goat trials in my neck of the woods great,ha ha ha.Water pump went out but a life time replacement one was for it was under $40.00 heck can,t beat that.Have not had it long under two months,but it has impressed me. Seats are stuffed with what looks like straw? Guess they did not have foam back then,ha ha ha.Paul
Primary Use: Commuting to work
Andris

writes:
1985 BMW 3 Series 325i Review
Rullikas! — Best rear wheels drive car! comfortable seats and easy to drive. but as it is an old car it rusts badly! and don´t have a good reputation. cheap parts and easy to fix. 2,5 motor is works with minor problems.
Primary Use: Family transportation
Camern

writes:
1985 BMW 3 Series 325e Review
Pros
Great drivers car. Interior is the best, drive train is spot on.
Cons
snow and rain there great for fun but dont be in a hurry. this car loves dry road
Its German — This car had been sitting in a garage for 7 years when i bought it. They never started it never moved it. I changed the gas and purged the lines put a battery in it stated right up and have been driving it with out a problem. It has and inline 6 engine automatic trans. It is a little slow off the line but has one great top end acceleration. It rides really well. takes corner like you wouldn't believe possible from a rear wheel drive. fully loaded and only has 108,*** miles
Primary Use: Commuting to work
Alberto

writes:
1985 BMW 3 Series 325i Review
Pros
Performance for an 80's car.
Cons
Getting spare parts sometimes
My E30, 1985 — Very low milage car (57,000 km as of today), wow Acceleration is OK, braking could be better, but the looks is awsome. Recaro seats, M looks, BBS wheels (15 inch) All original!! Hope to race a vintage race soon!!! In the mean time, very fun to drve around....
Kevin

writes:
1985 BMW 3 Series 325e Review
Pros
interior is immaculate, performance is like new
Cons
dings, scratches on exterior
1985 Bmw 325e — its performance is great, but the top speed isn't as good as it should be. It needs a few repairs now and then, but overall it runs great. The one aspect of the car that i really dislike is the dings and scratches that my relatives put on it when they owned it. It gets 17 miles per gallon. It is very fun to drive, especially on the freeway!!
Displaying 1 - 10 of 15 reviews
Ask CarGurus about the 1985 BMW 3 Series
Average response time:
8.5 hours
,
# of BMW 3 Series owners:
24,455
Looking for a Used

3 Series

in your area?

CarGurus has

36,354

nationwide 3 Series listings starting at

$1,000

.