1983 Toyota Supra
User Reviews
1983 Toyota Supra
Review Ratings
Average Ratings from

9

reviews
Performance:
Appearance:
Build Quality:
Overall:
Review Highlights
Click to filter reviews below
Displaying all 9 1983 Toyota Supra reviews.
Andreas

writes:
1983 Toyota Supra 2 dr liftback P-type
Review
Pros
Looks cool and sporty to this day, handles great, sounds meaty, interior is very classy, parts still somewhat avaliable
Cons
Mine has a fuel leak and it's been hell to try and fix, it's kind of slow and bulky, mine is loud due to exhaust 'upgrade'
From Camry To Supra — I came across this car at my work, I had a camry and though it was a fine car, it's really really not my style. This Celica Supra showed up and half the team went out to see it, I asked the guy what he wanted, I told him I had a Camry, and he took it in trade. It's a cool car, and one that has alot of potential, with all the Toyota engines and parts out there. Mine came with a fuel leak, and it's a terrible problem that makes the car fairly unreasonable for long trips. My fuel gauge is also non-functioning, so I can't really take this car anywhere but to work and back. I am looking around for a fix, and dread that I have to go to Toyota for a new tank and sending unit. It drives well, but is a little strange on the throttle, with what feels like a deadzone of no response. The power could be alot better and it's something I want to fix, but for a nearly 3000 pound car, 150 HP isn't enough. Though with the exhaust it came with, it sounds like a diesel truck, which really isn't a complaint, but it does crackle and gurgle when you left off the gas, which I don't like. It's a good car, and for the price and age, still holds up well. Mine has 330,000 miles, so it's been places and seen things, and overall, it's held up exceptionally well.
Primary Use: Commuting to work
Jessy

writes:
1983 Toyota Supra 2 dr liftback L-type
Review
Pros
good gas mileage with hp, great handling around turns
Cons
a lot of electric and sensors
Overall Fun To Drive, Hugs Turns, Excellent Gas For Hp — Has great acceleration, average hp, no major problems in the last 6 years. It has cost me 2000 in repairs because the person I bought it from hadnt taken care of it. It is a very fun car to drive, handles extremely well.
Primary Use: Commuting to work
1983SupraLover

writes:
1983 Toyota Supra 2 dr liftback L-type
Review
Pros
Sporty ... & Reliable Fun!
Cons
sunroof needs a little manual encouragement to open sometimes.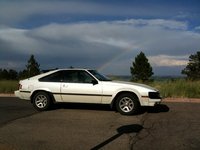 Sporty... Fun & Reliable -1983 Toyota Supra — 1983 Toyota Supra- 5 speed -217k-Pearl White / Burgandy w/sunroof & All Options- After owning this car for over 20yrs ...This 1983 Toyota Supra has been the most Fun & Reliable Car ...I have ever owned! I have become a major Toyota Supra Fan! Highly Recommend!
Alex

writes:
1983 Toyota Supra 2 dr liftback P-type
Review
Pros
Wedge design, flip lights, buttersmooth inline 6 powerplant, gobs of torque and power throughout powerband, great street presence
Cons
Rust rust rust, lack of aftermarket support, spares are few and far between
Celica Supra — Old school second gen Supras (MA61) are rarer than ferraris out on the road nowadays. Smooth 2.8 DOHC 5MG-E inline 6 makes smooth, effortless power throughout powerband. Great car for long distance traveling and highspeed highway cruising. Extremely rare car, wtih strong street presence among Toyota enthusiasts. Well flourished interior with perhaps some of the best front seats designed in a production car of its era. all in all, a timeless toyota classic
Primary Use: Sport/fun (spirited driving, track racing, off-roading, etc.)
Terik

writes:
1983 Toyota Supra 2 dr liftback P-type
Review
Tad

writes:
1983 Toyota Supra 2 dr liftback P-type
Review
Pros
amazing performance for a 25 year old car
Cons
a little underpowered for me
Best 25 Year Old Car — so probably the best car i have and ever will own. has 2.8 liter inline 6. quickest car in 1-3 gears. will pull ahead of camaros, firebirds, mustangs, and all the other popular crap. especially the honda pos, and 240sx. once i figured out what its problem was in the first place, it hasn't needed any repairs since. it looks amazing, especially since i painted it. since i removed my cat, egr valve, charcoal canister, and pretty every other piece of emission crap, i get like 20-21 mpg. this car is amazing to drive. no wonder toyota's whooping up on gm and ford. i'd recommend this car to all my friends, if they could find one.
Chris

writes:
1983 Toyota Supra 2 dr liftback L-type
Review
Pros
with the new suspension and tires it hold to the ground very well.
Great Car To Have Fun With. — its stripped out and a few parts taken off the motor. wweighs around 2850 pounds, has 15lb. rims with 225/40R15's on it. has a spare from a 1985 ptype with a disscontinued Falken tire on it cause the compund the tire was made out of was to soft and would wear out rapidly from everyday driving. is going to have a turbo installed on it in a couple months after i get a few more parts for it.
Stephanie

writes:
Pros
my dad got it for 500 bucks hahahahaha no joke
Cons
wont run in the winter or cold
Big Sassy — this car was my best friend the min my dad brought it home!!! my (or my dads) 1983 supra is probley in the best shape exterior and interior that i have seen so far. there is maybe one or two little rust spots. other than that nothing wrong with the out side. on the inside there is a rip in the drivers seat well not really the seam is just starting to pull a part not real bad. could be bad in a few years or months if not fixed. the car is never driven in the winter. before we got it the prev owner said he couldn't get it to run. so it sat in his shed for like 12 years or something. it runs all the time now my dad just put oil in it and got it running threw apparently thats all it needed so ya its a great car. i now have moved and could not take the supra with me :( makes me very sad. but she still gets driven by her other lover my dad all summer. she still loves me the best though hahaha. makes me happy though that he gets to enjoy the car that he bought now. cause im not there to steal it all the time.. unless im visiting :) i think i love this car so much because its something me and my dad share an interest in. also its really just a great car. now i only hope he can enjoy her as much as i did! what can i say i love my DAD!!! oh yea and hi dad if your reading this haha
James

writes:
1983 Toyota Supra 2 dr liftback L-type
Review
Pros
I6 fuel injected engine
Displaying all 9 1983 Toyota Supra reviews.
Looking for a Used
Supra
in your area?
CarGurus has

61

nationwide Supra listings starting at

$2,995

.