1981 Chevrolet Corvette
User Reviews
1981 Chevrolet Corvette
Review Ratings
Average Ratings from

19

reviews
Performance:
Appearance:
Build Quality:
Overall:
Review Highlights
Click to filter reviews below
Displaying 1 - 10 of 19 1981 Chevrolet Corvette reviews.
dpanzerman

writes:
1981 Chevrolet Corvette
Review
Pros
Beatiful curves, timeless styling....she'll be your best friend
Cons
Don't drive if you are shy, and don't want to talk to people or be stared at longingly!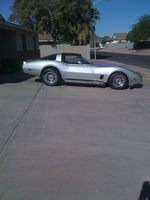 1981 Corvette — Sharks are the BEST! Cost of ownership is low, these cars are reliable...and every single nut and bolt is available Fun factor is off the charts, you get more stares and longling glances is a Shark...that you will ever get in 99% of the cars out there. Quality of the car itself matters...anything between $17000- 25000 these cars wont let you down...buy a $4000 beater...well its gonna be expensive, but gorgeous when you restore it. Performance...stock not so great....good news...its a chevy small block.....it's cheap and easy to make it stupid fast. Also, the chassis and engine bay was designed for a big block...yeah you can go that route too! A multitude of performance parts are available, race tuned suspensions, upgrade brakes, everything. The only cars with more tuning stuff available (and then its a tie) are Camaros and Mustangs.
Looking for a Used
Corvette
in your area?
CarGurus has

10,826

nationwide Corvette listings starting at

$4,495

.
Chris10974

writes:
1981 Chevrolet Corvette
Review
Pros
amazing looks, handling and quality
Amazing Car — this car is a gorgeus car and its performance was allmost amazing, the turning was almost on a dime,the acceleration was the best i have ever seen. the quality on the car was good its an almost solid car, it was vary fun to drive. this car is not that grate on gas.
Moe

writes:
1981 Chevrolet Corvette Coupe
Review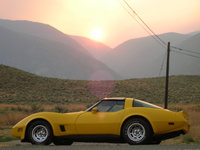 My First And Not My Last Corvette — After wrecking up my dependable 1991 Miata I decided to buy a newer and larger car. That promise lasted until I saw this beautiful 1981 Corvette. It was all yellow (one of only a few thousand made that year) it had a stick and looked almost new. I bought it a few days later and I still find reasons to drive it every day. It has been in ths shop often however. I warn all new buyers 'origional parts' may sound good in the sales speach but when you are buying an old car that means parts means some slouch didn't bother with regular service and saftey issues. All of those nice origional parts will be worn and will need replacing quickly. For me it was u joints, front and rear brakes and a master cyl. The power window motor is shot, that is small but pricey. The shocks are qustionable and I have a leak in my windsheild and the idol races between stall speed and light speed and nowhere in between. But as each repair gets done we all know I am getting one step closer to having a collecter's car that could still out race the new Mustangs and could out shine any car built today. It is my first Vette and if I ever do get rid of it I know it won't be my ast Vette. It's a beauty eh?
Owner for 1 years, 3 months
Miles Driven per Year:2,000
MaxPowerdjx

writes:
1981 Chevrolet Corvette Coupe
Review
Pros
Looks. Performance. Reliability.
Cons
Gas Mileage. Cheap Interior. Cabin Noise(with T-Tops On)

The Penultimate Shark! — The last time I owned a C3 was 1985. It was a Red on Oyster 4 speed. I was 27 and had owned the car since new but thought it was a good idea to trade it for the new fuel injected 1985 Corvette. Bad idea. Like all 85 Vettes, it was terrible. So recently I got the fever and decided to get a 3rd Generation one more time before I die. So I started searching until I found one at a reasonable price in decent condition. And I did luck out. 81 one is the Penultimate Shark, and in my opinion the last year of the C3 to buy. 82 with the "Cease Fire Injection" system should be avoided unless a previous owner has replaced the engine. 81 has only the ignition timing controlled by a computer system. It's still a Carb system so you can replace the Rochester with a Holley or other choice. Nothing looks like the C3. The best looking car in American history I say. The 3rd gens ride isn't for anyone who is opposed to feeling every pebble on the road. The interior isn't the quietest either. And the interior is also pretty cheap material, although I do love the deep dish seats. And in 81 the driver's seat was power adjustable! The car while a VERY thirsty beast is very reliable. The engine if you change the oil regularly and do all the other normal maintenance will run forever. Chevy small block 350's are that good. The Transmissions on the Vettes of this era(say 78-81) are also durable and reliable. Mine is a automatic. Sticks are a tough find since of the 40 plus thousand made only one in about 8 in 81 were manuals. Only one in 10 of the nearly 42 thousand in 1980. It is listed at 190HP, but it seems to have much more. I had a Grand Prix GTP previous and it's 230HP was not nearly this quick or fast. It's pure FUN and even the most jaded ass wipes in their BMWs and Benz will stare at you with envious eyes. In this you are not a Sheep in the flock or just another Lemming packed into a shinny metal box. No way. You is wrapped in fiberglass!! Parts are easy to find and reasonable in price(although these days what is reasonable can be debated). So if you want to have fun driving again. Reconnect with your lost youth. Feed your mid life crisis. Or just want to dare to be different, find ye an 81, or a 1980, 79 even. The Sharks from 79-81 were the best. and from 80 - 81 the "Coke Bottle" Vette as they became known have it all. I would not lie to you. May tease you from time to time but I try not to lie on such serious Corvette matters.
Neil

writes:
1981 Chevrolet Corvette Coupe
Review
Get One If You Can Afford One Now. — Classic Power, handling, and torque. Limited capaciity and leg room, but a "Chick magnet"! One of Chevy's best models for the time. Best value for price. Definately a fun can to drive and comfortable for the driver and one passenger.
Primary Use: Commuting to work
Rob2736

writes:
1981 Chevrolet Corvette Coupe
Review
Pros
She's just so sleak!
Cons
She's a bit short on power.
81 Corvette — Performance - I love that it's carb... but it's a bit low on acceleration. Build Quality - Most are pretty impressed with how it rides. Appearance - Nothing beats the 81 look. Gas Mileage - It's a Corvette.. are you really worried about gas mileage? Is this car FUN? It's a Corvette... DAMN STRAIGHT IT IS!!!
mike7171956

writes:
1981 Chevrolet Corvette Coupe
Review

Na — i love my vet it is in great shape never seen the rain runs like a clock. it is white with red int. wish it was a 4 speed but had to get auto so my wife can drive it too. we have alot of fun in the summer with it.
Primary Use: Family transportation
Dave

writes:
1981 Chevrolet Corvette
Review
Pros
Great power, Killer looks, and it's a Vette!
Cons
Seems to always be needing something. It'll cost you a lot if you can't repair it yourself.
You're 18 And Drive A Corvette? — This car all in all is a great car. I bought the car for $6000 in 07, and I've probably got about that much into it, putting me right at about $12,000. Since then, I've put in a new 350 crate engine, put on a new hood, rear bumper, quarter panel, transmission, 2 different exhausts, new suspension parts, and a bunch of other goodies. It runs like all hell. It's got a .30 over 350 (355), 10.1 compression, good flowing heads, aluminum intake, 750cfm carb, and longtube headers into sidepipes. It moves damn well. It has independent rear suspension and coils up front, so it handles nicely, too. It does seem, however, that I'm always fixing something, but then again, it is 27 years old.
a68cord

writes:
1981 Chevrolet Corvette Coupe
Review
Pros
Great looks , Easy to get parts, Everyone can work on this car. America`s true sports car, It is what I perceive my idea of what a sports car should be in a specific time.
Cons
Gas consumption, People want to touch it ! , No bumpers , Very bright inside on a sunny day (a cap cures that). As I get older , getting in and out is harder.

Everyone....everyone ! ....examines A Vette In The Garage (4 Year Owner). — First of all I love the looks of my car. I haven't gone on any log trips yet ( more than 3 hours) ,but with the power seat it adjust so that I have never found it to be uncomfortable. I have had 3 classic cars (Cord, Porsche, Corvette) and this is the easiest and least expensive to maintain. As far as performance ,braking and handling, there are newer cars that do it better. But I stopped driving cars to the edge in my thirties. Being a older car I have gone through it completely to stop leaks, rattles and to be sure its safe in every possible way .. That costs, but it also removes almost all doubt of disappointment. When I go to my toy after its sat for 5 days or 5 months (winter) . I`m good to go . Lastly ,every person who enjoys cars should own something they wished they could have had when they were younger. House payments , wife , kids came first . Now its my turn. I have had this itch since I saw the 1958 corvette , then it was the 63 through 67 and the 1978 thought 1982. Cost factored into the purchase. A wise man told me " Buy what you can afford ... then multiply that by at least two ". Boy was he right on . So in closing , I would say put a list together of your top five choices. Check your funds to spend. Give yourself at least five years if its even slightly a project. Then enjoy talking with people about your car .Going different places for both the drive and the destination. And hearing some weird comments.
Primary Use: Sport/fun (spirited driving, track racing, off-roading, etc.)
Kamran

writes:
1981 Chevrolet Corvette Coupe
Review
Pros
Its really fun to drive
Good — 430 HP 450 ft/lbs of torque. This car overall has a good build quality and is reliable (if stock). It doesn't have the best gas mileage but it is also is corvette not a prius. Very fun car to drive.
Primary Use: Sport/fun (spirited driving, track racing, off-roading, etc.)
Displaying 1 - 10 of 19 1981 Chevrolet Corvette reviews.
Looking for a Used
Corvette
in your area?
CarGurus has

10,826

nationwide Corvette listings starting at

$4,495

.