1978 Ford F-150
User Reviews
Average Ratings from

28

reviews
Performance:
Appearance:
Build Quality:
Overall:
Review Highlights
Click to filter reviews below
Displaying 1 - 10 of 28 1978 Ford F-150 reviews.
MACH150

writes:

All Around Excellent Truck — I own two 1978 F-150's,one I drive every day,and a slow process of customizing.I bought the truck as the second owner.My F-150 has 130,000 original miles.The engine has had an rv cam and medium rise intake and holley 600cfm carb.Also added to the interior a pair of early 70's lincoln mercury high back split bench seats.This to me is the best truck that came off of the ford assembly line.The sleek but mean look of the body, to the roominess of the interior,and the never ending torque of the power plant and drive train.This truck is the workhorse and fun truck of american and foriegn made trucks.The space available in the bed,you could almost haul a house.The suspension,as always is ford tough,out of all the f and e series fords I've owned,not one of them ever needed alignment.1978 F-150 is BOSS!
Owner for 1 years, 2 months
Miles Driven per Year:20,000
fordforlife1010

writes:
Pros
Sound, Power. Looks,

Best Truck I Ever Owend And I Am A Car Dealer I Have Owned Everything — Never fails me! Sounds better than anything on the road! The front grill on the 78 and 79 is also a huge step up in looks. I have a 351 C6. Lariet trim its nice. posi trac rear end makes great for peeling out.
Primary Use: Commuting to work
Adam

writes:
Pros
tough, dependeble, easy maintence, does not die!
Cons
mpgs, no floor boards
The Reason F-150's Have Rocked For 30+ Years! — My truck kicks ass old school style! Done alot of work on it myself. Nothing keeps it done for long. V-8 two wheel drive. It'll pass everything on the highway but the gas station! Course 17 mpg isn't too shabby all things considered.
Jami

writes:
Pros
Dual exhaust, engine upgrade.
Cons
Needs restoration...hence it being a project truck. What sucks... Ford wasn't sure if it is an f-150, a ranger or an explorer so it became all 3 ;)
Jons78

writes:
Pros
Power, Handling, Drivability, Reliable, Great looks! (Lots of thumbs up)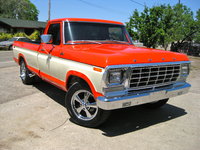 Classic Truck — Great Fun old truck to drive! Always get waves from classic to muscle car enthusiasts! This perticular truck just had a408W stroker put in with over 425 hp! Took me 7 years to get me to get it where it is! much more to go! Interior is next! :) Fun project truck and fun to drive!
Primary Use: Sport/fun (spirited driving, track racing, off-roading, etc.)
cparker881

writes:
Pros
Truck has great lines.
Cons
Its impossible to get any help from ford on parts codes and especially these stripes.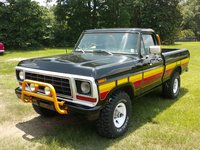 Finally Finished — I dated my high school sweet heart in this truck in the mid 80's. I married my high school sweet heart 2 years ago today. Tonight I'm taking her out in this truck for the first time in 26 years. The truck sat at my dads for 25 years. everything had to be redone. rust holes you could stick your head through to a 351 m with a terrible attitude. it is finished now with the exception of a windshield that is back ordered and a couple of minor details. I usually build chevy's and don't normally build one that is so far gone but, considering the history it was well worth it. I've built tons of cars and trucks over the years and I've sold every one. This one will stay with me!
Primary Use: Family transportation
Tristian

writes:
Its An Awsome Truck — i love this truck with the 400 its got plenty of power and it such a classic with the red and white paint job. i got it for free and i only have $240 in it. it so fun to drive
Primary Use: Sport/fun (spirited driving, track racing, off-roading, etc.)
lucas247jghjhngjkyjh

writes:
Cons
dont run, body in bad shape

Ford Suck — i dont like it ,and i dislike that it dont run , it have some rust and some dents in it ,it been sitting in tthe yard 5 years or more , it need repairs , the engine dont fire on it.ok thats it
Primary Use: Utility (towing boats, transporting cargo, etc.)
Jonathan

writes:
Pros
Extremely reliable, low cost of ownership, deccent feul mileage
Cons
It weighs 6050 lbs, not exactly easy to park
Great For Work — Great truck low cost of ownership, deccent gas mileage (18 -20mpg), low cost maintence, easily driveable on highway or back roads, great daily driver with deccent inteior, comfortable but lots of road noise, had no issues with out of state road trips thru the mountains
Primary Use: Utility (towing boats, transporting cargo, etc.)
wndzman

writes: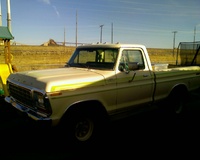 Displaying 1 - 10 of 28 1978 Ford F-150 reviews.
Looking for a Used
F-150
in your area?
CarGurus has
99,726
nationwide F-150 listings starting at
$1,500
.