1976 Chevrolet Impala
User Reviews
1976 Chevrolet Impala Review Ratings
Average Ratings
from 5 reviews
Performance:
Appearance:
Build Quality:
Overall:
Review Highlights
Click to filter reviews below
Displaying all 5 reviews
Jeff

writes:
1976 Chevrolet Impala Review
Pros
everything, rides like a dream and pulls great even tho its a big heavy car.. will still do donuts too =D
Cons
there arent many because theyre so old most have already been crashed
1976 Chevorlet Imapala 4 Door, Great Car — this is an awesome car floats like a boat down the road, i would recommend it to anyone, that is if you can find one because theyre hard to come by as it was made in the 1970's and most of them have been smashed up or cut up for scrap sadly :( but i do love my 1976 4 door impala <3
Donkman67

writes:
1976 Chevrolet Impala Review
Cons
With hydros very bounce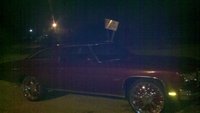 Jamie

writes:
1976 Chevrolet Impala Review
Pros
Fast Sleeper First car
Cons
Let's face it, it's a boat!
jef

writes:
1976 Chevrolet Impala Review
Cons
To large, to juicy,does not corner well,ridiculus big engine,no room inside etc. Startermotor to close to engine. But who cares about all that.It is great

Weird Car — I own this lump almost 9 years. Ran in to it by accident.(i restore Morris Minors).Here in The Netherlands a difficult car, because of the narrow roads, but i use it for long distance. 6 metres long and no place in the back. I run it on LPG.3 times cheaper to run. No road tax (25 years old). Had some welding , doors, windscreen. But very reliable.Never seen one over here at all. Police does not bother at all so that is a bonus. Front and back are great to see, but i am not shure about the side. Little windscreen seemed to have been thrown in at the last time. Does not fit in the back. Does not look right. But who cares. It is all smiles when i drive it and my children love to take their friends into town in it. Build three years after oil crisis.Are they mad? 2000 kilo. Now i am glad that they did. But i guess you are feeling the weight of the car in your wallet too. If it was not for the lpg, i could not afford this car.(petrol is 2.25 dollar per liter, lpg is o.90 dollar per liter) I drive it to England for vacation and take my 86 year old mother in law too. That is reliabilety for you.
Owner for 9 years, 0 months
Miles Driven per Year:8,000
stardestroyer

writes:
1976 Chevrolet Impala Review

Displaying all 5 reviews
Ask CarGurus about the 1976 Chevrolet Impala
Average response time:
8.5 hours
,
# of Chevrolet Impala owners:
5,204