1970 Cadillac DeVille
User Reviews
Displaying all 7 1970 Cadillac DeVille reviews.
Charles

writes:
1970 Cadillac DeVille
Review
Best Road Trip Car Ever. — Real Detroit Steel. The thing had a 455 and would bury the speedometer, all the while making you feel as if you were in a la-z-boy. Too bad about the price of gas...when you opened the other two barrels you could just about see the gas gauge move.
Primary Use: Commuting to work
Patrick

writes:
1970 Cadillac DeVille
Review
Pros
I like everything about this car.
Cons
The cost of replacing the miles of leather if left neglected
A Sure Buy If You Are Looking For A Good Cruiser. — These big cadillac's are something that a collector could easily get into. This vintage has a 472ci with 525ft/lbs of torque. This makes is so that even though the curb weight (4660 lbs) is a lot the car gets up and goes with ease. Large luxery cars from this era are cheap and have all the creature comforts you could want. Large comfy leather seats, great looks, pleaty of trunk space, and a suspension that makes you feel like you are gliding on air. The 7mpg fuel economy leaves you wallet a little sore but you can't beat the driving experience.
1970_CoupeDeVille

writes:
1970 Cadillac DeVille
Review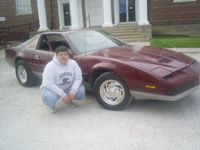 Daddy's Caddy — My dad inherited a 1970 Caddillac Coupe DeVille Convertible a few years ago. For a thirty or more year old car, it floats down the road just like the boat that it is.
Owner for 2 years, 0 months
Miles Driven per Year:2
Diab

writes:
1970 Cadillac DeVille
Review
Bad Ass — It's a classic! Lots of power and rides like a dream! Pick-up is ok but one you get up there, it's fast! Everywhere you drive the car turns heads. It's easier to maintain than newer cars. The only downside is the amount of fuel it uses.
Primary Use: Sport/fun (spirited driving, track racing, off-roading, etc.)
Josh

writes:
1970 Cadillac DeVille
Review
Pros
Because it look shabby, but I still get the Thumbs Up!
Cons
Dont tuch any thing because it might fall apart. After all it is 40 years old.
Cool Car To Drive In As Long As You Have Your Mother N Law's Aaa Card On Hand! — I bought this car about a year ago, in the city were I live. It was always parked in the same spot and always had a parking tickey on it. ( Should have known that this car was going to be a parking ticket magnet) But I really do like the way this car is shaped and the way it could look if I were to put some money in it. I call it the Cadillac Mafia..Because it looks like a big Felony trafic stop. (Put your Hands out of the window and step out of the Vehicle)...It spent most of its life by the beach and the salt air is to make the car rust. This is not my first classic car restoration. But the sad news is my (sig. other hates it) Ever much so for that reason I shall keep this car for ever!
Primary Use: Family transportation
Magne

writes:
1970 Cadillac DeVille
Review
Pros
A nice classic car for 6 peopel. built to last and nice to drive.

Cons
Som parts can be hard to get
The Best Looking Hobby Car You Kan Get — Performans: like a new car or better. Handling: soft Brakes: 4 disk Funn Faktor: Cannot be better Accelerasjon: like a new car or better Appearance :interior is white leader electric seat electric topp. Gas mileage: 1,5 to 2 liters pr 10km
Lydia

writes:
1970 Cadillac DeVille
Review
My Cadillac — i love my car over all, the performance is great for it being as big as it is. doesn't need any repairs for because i just got done repair it. intrior need to be re done because the leather seates are kinda torn up. but over all this car is one of my favs to drive!
Displaying all 7 1970 Cadillac DeVille reviews.
Looking for a Used
DeVille
in your area?
CarGurus has

2,343

nationwide DeVille listings starting at

$995

.