1969 Chevrolet Chevelle
User Reviews
Average Ratings from

28

reviews
Performance:
Appearance:
Build Quality:
Overall:
Review Highlights
Click to filter reviews below
Displaying 1 - 10 of 29 1969 Chevrolet Chevelle reviews.
Anonymous bought one because:
Beautiful, powerful, American "Road Dominance" machine
Looking for a Used
Chevelle
in your area?
CarGurus has
137
nationwide Chevelle listings and the tools to find you a great deal.
ilplay2

writes:
1969 Chevrolet Chevelle
Review
Pros
paint engine transmission and its a 1969 looks from a lot of people
Cons
the headliner gas mileage is not the best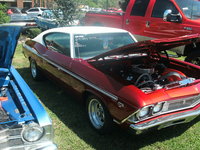 Super Nice 69 Chevelle Yenko Tribute — the looks are there fast drives easy p/s p/b m21 4sp trans shifts great gear ratio is close super shifter w/lock out on rev the sound the interior needs a head liner in stalled the seat are orig,but no tears ,
Primary Use: Sport/fun (spirited driving, track racing, off-roading, etc.)
kennethtullly

writes:
1969 Chevrolet Chevelle
Review
Pros
What can I say it's a 1969 chevelle SS 396
Cons
ummmmmmmm.......................nope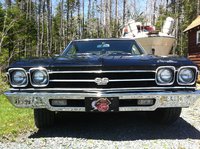 The Classic Timeless Muscle Car — This car is awesome. It looks like raw power. Sexy and alive vibrating power plant. There is no where I go that people dont actually run ove rto the car or follow me just to get a closer look and ask questions.
Ernest

writes:
1969 Chevrolet Chevelle
Review
Classic Muscle Car — 1969 chevelle ss396 700r4 overdrive transmission, factory A/C 3:73 12 bolt rearend, custom gauges, 17x9.5 rear vintage wheelworks v40 w/ 285/40 bf goodrich kdw and 17x8 w/ 245/45 in the front. Fathom green exterior with dark green interior. Very fun to drive.
Primary Use: Sport/fun (spirited driving, track racing, off-roading, etc.)
Larry

writes:
1969 Chevrolet Chevelle
Review
Pros
go fast, have fun, watch the heads turn
Very Nice Car — i like everything about this car. Hardly ever have a problem with the car. Very fast car. The most expensive thing about the car is gas. The car is great to drive just tap it and its sideways. All and all its a very fun to drive on the weekends hardly ever anything wrong with it and i am a proud owner
Primary Use: Sport/fun (spirited driving, track racing, off-roading, etc.)
Chuck1253

writes:
1969 Chevrolet Chevelle
Review
Pros
Nice clean chevelle, about 350 +HP.gets lots of thumbs up each time it out on the road
Cons
Not a good highway car with the 410 rear gear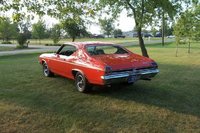 Timeless — Used this car on my wedding day, then 35 years LATER we used this same car for our daughters wedding day ,thats what they wanted ,a special day for all. Each time I drive my chevelle it's like going back in time, gress it keeping me young. I purchased this chevelle ss from a used car lot in 1974 ,payed 2,100 dollars for it, was driving by in my 1962 2 door nova witch had a small block in it. first thing that caught my eye was that color ,
Tanner

writes:
1969 Chevrolet Chevelle
Review
Pros
Both quirky and unique, this car is outstandingly attractive, and just as fun to drive.
Even though the car only came with the most basic package that was offered at the time, it feels like it has everything it needs, even though this project will eventually be turned into a "Resto-Mod".
Cons
The age of the car and its uniqueness makes finding parts for the car hard and sometimes expensive. The fact that the car is all original means that the old engine tends to ask for maintenance somewhat often.
Sexy, Fun, And Classic! — This is a 1969 Chevelle 300 Deluxe 4-Door Sedan with what is likely a Turbothrift 230 Inline-6 engine producing 140 horsepower from the factory. Despite the lack of having a competitive engine, the inline-6 can still make this 4000 pound all steel car hop around, and it can even surprise those who work on high-performance cars all day... but only when there is about a quarter-tank of gas (lowering the weight the engine has to push around). While crowds may not form around the car at shows, it is quite the rarity these days. There were only 74,902 Chevelle 4-Door sedans made in 1969; 9,399 of those were the 300 Deluxe with an Inline-6 engine. Exact numbers cannot be told, but with the car as old as it is, only time knows how many of these still exist, and of those, how many can actually still run. Despite being one of the best things your grandma could buy in 1969, getting about 18 Mpg in town and about 21 Mpg on the highway, it still has some of the sleekest and most appealing lines of any car from the muscle-car era. Though it is still a 4-door, the car's length is no longer than a coupe, but it does ride on a special frame only used with the 4-door model. Combine those lines with the gold-flake emerald green paint on the body that glimmers in the sun, it always leaves the ladies with responses like "it's pretty" or "it's sparkly." Neither the engine bay, nor the interior are in pristine condition. The engine bay looks almost bare with the I6 in it, and it is clear that there is a lot of work that needs to be done, with none of the original orange paint left on the engine itself. The interior is in a much better condition, with a few cracks here and there and a few screws missing, leaving the dashboard to shake and rattle at highway speeds. Though this is a good-ol' American car, and engine maintenance is fair, it is certainly harder to find parts for the I6 engine than it would be a V8, and it is extremely hard to find replacement pieces for middle, 4-door section of the car. This car is in essence, a road yacht. The weak springs the car has that could easily have come from a toy, cause the car to rock and sway in the wind. When ignoring traffic laws and putting the petal down across a mile from one stop-sign to another, this car feels like it is about to take off as the front end lifts and the hood and dash shake with you as though you are in a speed-boat. Although in that mile it is impossibly hard to get past 95 Mph while still giving yourself enough stopping distance for the drum brakes the car has, the oldness of the car makes you feel like you are going much faster than you actually are. Even on the highway in situations where there could be a need for speed the car still has some impressive "get-up" when going from 60-90 Mph. The car really can't go much faster than that, but I don't know why you would want to, as even going 80 Mph with the wind blowing hard makes you feel like death is impending on you. Despite this Chevy's quirks, I will always take pride in its beauty and uniqueness. It would be hard to imagine a car that would be more fun and one that I would have preferred owning and driving throughout high-school as my every-day car. While this gear-head may have some qualms about how original he wants to keep this 1969 Chevelle 300 Deluxe 4-Door Sedan, a definite Resto-Mod is in-store for this project car somewhere down the line.
Primary Use: Commuting to work
AutoAppraiser

writes:
1969 Chevrolet Chevelle
Review
Pros
This is 1 of 908 made in 1969. It is the muscle car dream... It is the car every most can only dream about having in there collection.
Cons
Has a hard time transferring the 396 cu.in 350hp power to wheels... If you want to burn rubber this is the car for you.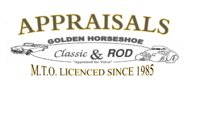 American Muscle At Its Finest. — This car should be put in a showroom...after it is fully restored again. Even I could not do that so a driving this piece of history is the only viable option,for me. Here is the Appraisal Facts Sheets: IDENTIFICATION YEAR: 1969 MANUFACTURER: CHEVROLET MODEL: CHEVELLE SS SERIAL NUMBER: 1363791319111 MILES: 76506 BODY CONDITION • All exterior Panels are in excellent original condition • All exterior Panels are aligned properly. • All exterior Panels are installed properly. • This Chevrolet has mostly original body panels that are in excellent restored shape. PAINT CONDITION • Good condition. The paint is a professionally applied custom paint replicating the original color. • Custom Hugger Orange. The colour is the original code 72 matching WA3959 colour . • Custom pinstripping is applied professional in Black. Matching the original configuration. • The colours are consistent in colour. CHROME and TRIM CONDITION • All chrome properly installed. • All chrome appears to be mostly original and is properly installed and in excellent condition showing some weathering. • The Chevrolet SS emblems are showing some weathering. GLASS CONDITION • Excellent condition. • All glass is properly installed and appears as original with date coding. • Chrome rims and rubbers are in excellent shape. WHEEL AND TIRE CONDITION • Wheels and tires in excellent condition. • Original restored rally 5 spoke 14" rims polished. With SS emblems in hubs. • Tires are in excellent condition showing 35% wear. • Wheels are BF Goodrich fronts: P215 70R14M rears: P245 60SR14M INTERIOR CONDITION • Restored interior. Black vinyl with Black vinyl trim in excellent condition. • The interior is the restored material in a custom comfort weave pattern. • Seats, carpets, dash, visors and rear compartment trim are all in great condition. • All gauges are in excellent original condition with some markings. • Original dash with original gauges and matching black and chrome highlight in excellent condition. • Custom under dash oil pressure and water temp. Custom steering column mounded RPM gauge. MECHANICAL CONDITION The rebuilt original 396 cu.in Turbo Jet Chevrolet engine as reported by the owner. • No visible leaks of oil or coolant. Fair condition. • Custom detailed in orange engine compartment with chrome kit. • 396 cu.in. Chevrolet V8 big block with a Holley 4 barrel. The engine is the original 396 cu.in motor. • 4- Speed manual original transmission in excellent condition. EXHAUST CONDITION • Duel, Exhaust in excellent condition. • The stainless steel exhaust is properly attached and routed as per factory delivery. • Custom headers are in excellent condition. FRAME & CHASSIS • Excellent Condition. The frame is in restored shape. • No minor pitting is evident the frame is in overall excellent condition. • The frame in excellent maintained shape showing no visible defects. SPECIAL OPTIONS • Posi-Track rear end 10 bolt 4:10 Ratio • Z25 Super Sport 396 package • Front disk brakes • Door Trim Emblem • Special hood with duel SS ornaments • Hurst shifter PHOTOS Photographs illustrating the condition and appearance of your vehicle are enclosed with this report. Please allow these original photographs to remain with the set of documents which are to be sent to your insurance company. UPDATE SERVICE Your vehicles condition and value can be updated, as you deem necessary. Please contact our office for this service if you undergo extensive additional restoration or you have reason to feel that the value of your auto has increased. We strongly suggest that this appraisal is updated at least once every two years. If you require advice on the matter, please contact our office. IN CASE OF ACCIDENT In the event of loss or damage to your vehicle we suggest you remind the insurance claims department that this vehicle has been appraised for value. In as much as we are independent damage appraisers we can supply the insurance company with a damage appraisal concerning the cost of repairs. REMARKS Duane has owned this vehicle for 4 years. As with the previous owners, Duane is treating this car with care. The low miles and original restoration of this auto increase the value of this 70's muscle car. This car has had a full restoration and is being stored in dry floored conditions. The resent paint and body work enhance the close to original condition. The accompanied GM fact sheet prove that this car is 1 of 903 made for the Canadian market, which enhances the value greatly. In our considered opinion, an assessed value of $34,700.00 for a vehicle of this nature must be considered as most reasonable. Assuming proper maintenance and continued minimal use, there is reason to believe that this vehicle will hold a fair market value and continue to increase over the years. We wish you luck in your future endeavours. Yours Truly, BRYAN MIDDLETON
Primary Use: Sport/fun (spirited driving, track racing, off-roading, etc.)
Michael

writes:
1969 Chevrolet Chevelle
Review
Pros
Muscle Cars are only going up in value
Cons
Drinks Gas but that not why I own it.
Ss Chevelle 396 — Performance - almost any American Car built in the late '60s were built with power in mind. Neck Breaking torque. Quality - This car was built to last. Being over 30+ years old - who could ask for more. Appearance - This is one of my favorite Muscle Cars for the era. The styling and body lines Fun Car to drive.
Adrian

writes:
1969 Chevrolet Chevelle
Review
Pros
the car is a classic. what more need i say?
Cons
not so great gas mileage..
Displaying 1 - 10 of 29 1969 Chevrolet Chevelle reviews.
Looking for a Used
Chevelle
in your area?
CarGurus has
137
nationwide Chevelle listings and the tools to find you a great deal.